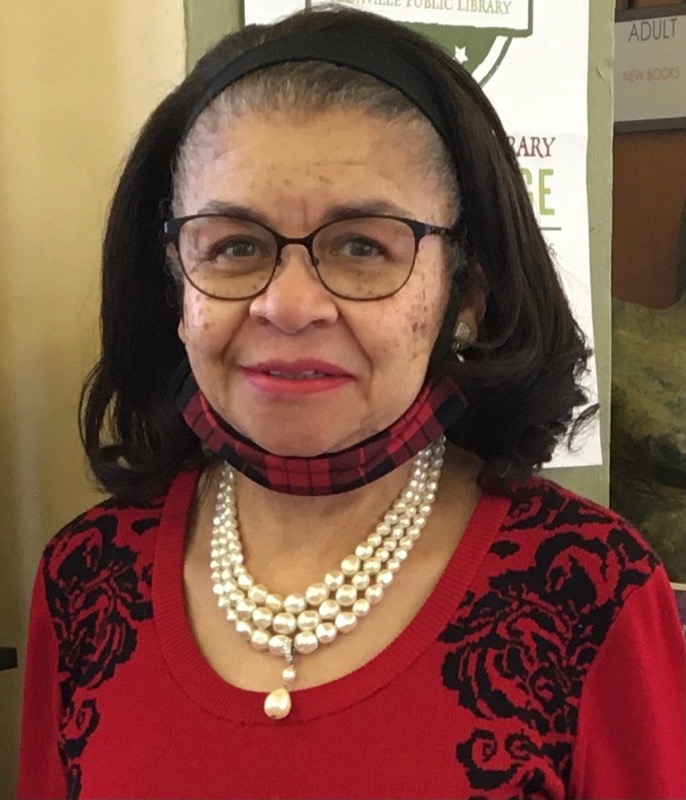 Join Us for the Final Entry in our Black History Month Series
Last year, during Women's History Month, the team at Nashville Public Library (NPL) shared the stories of some of the amazing women who make NPL a cornerstone of our city.
And — because you loved it so much — we're bringing back this series for Black History Month 2023 to shine a light on just a few of the women of color who work every day to make NPL an inclusive hub that serves the needs of our diverse communities.
Today, we're sharing the story of Cloreace Eppenger, the Manager of our historic North Branch Library.
Since we spoke with her last year, Cloreace and the staff of the North branch exceeded their Summer Reading Challenge goals, with more than 450,000 minutes spent reading; facilitated (along with Richland Park Manager Carlos Shivers) a group reading of Blind Spot: Hidden Biases of Good People for NPL branch managers; and engaged their community during Nashville Reads 2023 with the book Roll of Thunder, Hear My Cry.
Tell us a little bit about yourself.
I was born in Haywood County — which we call West Tennessee — in a little town between Memphis and Jackson. I grew up on our family farm and went to school in Brownsville. We were a big family — my parents, myself, and 10 siblings: three girls and eight boys. Having a large family, you have good times and some rough times, too! My parents were very involved in our lives and loved us. 
We all lived in the same place until I came to Nashville for school. Growing up, I envied my friends who got to move every year, and my mom told me, "Don't be envying them — they have to move!" I came to realize that we didn't have to move because we had our farm, so I learned to be grateful for that. We raised crops, made molasses, and at one time my daddy had a sawmill.
We had some great experiences growing up, and I'm grateful for that. My parents were "praying parents;" we went to church, and we cared for each other as neighbors. Even to this day, some of my old neighbors tell me that if it hadn't been for my parents helping them during the hard times, they don't know what they would have done.
In elementary school, we had a three-room school, with grades 1 through 8. We didn't have school buses, so we walked to school, three miles each way. I think about schools closing for snow or whatever reason today, and I remember we often walked to school with snow up to our knees. We waded through water, and we still had fun! I lived in the time of segregation, so we didn't always have the best books, but we were anxious to learn. I was, especially.
At one point, the principal allowed kids that were younger than five years old to come to school, but you weren't supposed to be there unless your fifth birthday was by December 31 of that year. So, I got put out of school because I was too young, which was devastating to me. What my mom did was she ordered some Jack and Jill books, which was a great sacrifice on her part because we didn't have money like that. She said, "By the time you go back to school, you're going to be ahead of everybody else there!" So, when I went back to school after six weeks, I was skipped to the next grade and was with the same kids that were there when I left.
I went to Carver High School in Brownsville and graduated in 1970, which was the last graduating class from that school. Desegregation happened the next year, so that school was closed. I came to Nashville in August 1970 and attended Tennessee State University (TSU). I got my B.S. in Home Economics Education and a Master's in Education in 1975. I did some additional studies in Business and Nutrition Education, because I thought I would be a dietitian, but that didn't pan out. In 1992, I attended American Baptist College and received a B.S. degree in Biblical Theology.
I got married in 1971, and we had two children, a son and a daughter, and today, I have ten grandkids and one great-grandson, which is fun! 
What led you into working in libraries and specifically NPL?
I've always enjoyed books and going to the library. When I was in high school during the summers, I would ride the bus with one of my younger brothers so he could attend Head Start, because my mother wouldn't let him ride the bus by himself. So, I worked in the library while he attended Head Start. 
When I came to TSU, I enjoyed going to the library there, but I didn't know that I had opportunities to work in a library. I was working at the West End United Methodist Church Early Childhood Center; during my last year there I served as co-interim director. When the former director left, there were books everywhere, so I decided to organize a library there so the teachers would have a better way of finding the books they wanted. 
When I was teaching at the different schools in West End and Belle Meade, I would go to Hadley Park Branch Library each week to get books for my kids. I would just sit on the floor and scoot up each aisle and select the books, because I didn't trust the card catalog! The children's librarian at that time would help me, and when I went in on January 15, 2002, they were having a farewell party for her. She asked me, "Why don't you apply for my job?" I had just resigned my job in November 2001, because my husband had a terminal illness, and he felt like I was bringing home germs from working with a bunch of kids — which was probably true — and when I told her that, she said, "Well, don't worry. If you put in your application today, it'll probably be six months before you get hired." I spoke with the manager and the children's librarian and put in my application that day, and I was hired May 16, 2002! 
So, that's how I came to work at NPL. I enjoyed working with children, reading books, and just being around books. The manager told me, "This will probably be a good fit for you because you already do story times where you work." I have enjoyed every minute of my work since I started working here. I didn't particularly come for the money — I came because it was something I thought I would enjoy, and that I still enjoy.
Tell us a little bit about your job at NPL.
We're in a different situation now than we were before the pandemic, so it has changed the nature of my job a little bit, even as the Manager of a small branch. My responsibilities include making sure the branch runs smoothly, submitting required reports, helping with circulation duties and shelving books, and doing some of the children's programs. Before we hired an associate librarian a few years ago, I also did tweens, teens, and adult programming, too. We also do a lot of our own custodial work.
I do everything here that needs to be done. I never ask my staff to do anything that I haven't done or wouldn't be willing to do. 
What do you find to be the most rewarding aspects of working in libraries and at NPL?
Helping people. That's satisfying to me, and I think it's satisfying to the customer when they can leave here with a good feeling that you have done your best to give them the help they need. Knowing that I'm making a positive difference in people's lives is my biggest satisfaction.
I treat everyone with the same respect, regardless of what walk of life they come from. Whether they live in a mansion or under a bridge, I want to help each person. My mom used to say, "No matter how people treat you, you don't have to stoop to their level, but you can reach out and lift them up to a better place."
What do you find are the biggest challenges about working in libraries?
We have a lot of people experiencing homelessness visit our branch, and often, they come in feeling like they'll be treated differently and won't be welcome because of who they are. It's a challenge to get them to understand that we're here for each person. 
Some time ago, one of my homeless customers, who has become a regular for many years now, would come in with his friends and they would curse and try me every way they knew how. I never tried to embarrass them or loud-talk them, but I would quietly state what I expected of them, and that it wasn't any more or less than any other customer or any member of my staff. Once he got that in his head, he became a regular and one of the most supportive customers we've got here. 
Who are the women you admire most in your life?
The first is my mom, Albertha Lue Williams. She believed in us and didn't allow us to say, "I can't." Whenever we did, she would say, "'Can't is dead. I went to his funeral, I saw him buried, and I won't let you dig him up again." She always wanted the best for us. We didn't have much money or material goods, but she believed in her children. My father did, too, but she really instilled it in us. She was always praying for us and encouraging us to be the best at whatever we were going to be.
Another is one of my dad's older sisters, Minnie Lee Caldwell. She was practically the same way as my mom, and was always encouraging us. We had to memorize these little "Easter speeches" for church, and she would sit across from us and just smile and encourage us to get up there, and give us a wink and some Easter candy when we finished. She lived just down the field from us, so we visited them often and she visited us. She was actually the one who delivered me; my dad had gone out of town and my mom went into labor by herself. So, I've always thought very highly of her.
I also admire one of my previous managers at NPL, Verlon Malone. She used to be the Branch Manager at the Bordeaux Branch Library and managed our cluster [a group of geographically aligned NPL locations]. She was a good role model and encouraged me in my work. When I came to North, I came with the intention of doing something about the branch. I couldn't believe the condition of the branch in comparison to other branches, and I promised myself that if I ever got the opportunity to make a difference, I would. When I came in, Mrs. Malone told me, "That's your branch. You do what needs to be done, you just cc me and let me know what you're doing." So, I believe I have made a difference. Children's books were locked up in the basement when I came, and I thought that was the most ridiculous thing I'd ever heard. I fixed that, made some requests that got filled, and I'm still making some requests!
Others I admire include Carolyn Block Billings, a former work supervisor who encouraged me tremendously and went above and beyond her duty to instill in me the rights and dignity of women, and to make sure that I succeeded at whatever I put my mind to.
Lou Allie Jones, my cousin/godmother, who taught me and encouraged me to be the best that I could be. She was also instrumental in me getting into college by assisting me in the application process, including financial aid; without her I probably wouldn't have accomplished this task. (My mother didn't want me to leave home!)
And Martha Ann Jones, my high school Home Economics teacher, who taught me not only the skill of professional sewing, but more importantly, the importance of confidence and self-esteem.
There are many other women that I greatly admire, but these are my personal choices. The others, I admire from a distance!
What advice do you have for the next generation of women?
Be true to yourself, put forth your best effort, and if it's the right thing to do, do it — even if you have to stand alone. I think if you're true to yourself, and be the best you that you can be, then you don't have to worry about what other people say or think about you. People are going to talk one way or the other, and I was always told to not let anyone put you on a pedestal, because the same people who put you there can turn right around and knock you down. Whatever you're called to do, do your best to help someone else.
What are your favorite books and why?
I cannot even begin to narrow it down, because there are just so many. I like to read romance books, inspirational books, and historical fiction. I just can't name one particular favorite because I have so many! It doesn't have to be a certain author, either. If I like the book, I'll read it. Of the many authors I've read, I love all of the works of Richard Paul Evans and Karen Kingsbury, and Victoria Thompson for her Gaslight Mysteries series.
Mostly, I read the Bible and fiction books. When I read a nonfiction book, usually I will buy it because I have this habit of underlining and highlighting everything, and I don't want to do that to our library books! 
Right now, I'm reading a book for our branch manager's book club called BlindSpot: Hidden Biases of Good People by Mahzarin R. Banaji and Anthony G. Greenwald. It's a very good book and a very interesting book because we find that all people are biased, one way or another, and you might not realize it until you read something like this and say, "Hey! That sounds a lot like me!" Most people won't admit that they're biased or prejudiced until something like this really hits you right between the eyes.
One other is My Wynter Season by Jonathan Pitts. My husband passed in September 2020, and that book really helped me through a tough time! 
Read the Other Entries in Our Women of NPL Series
Section
Genre / Topics
Age Groups