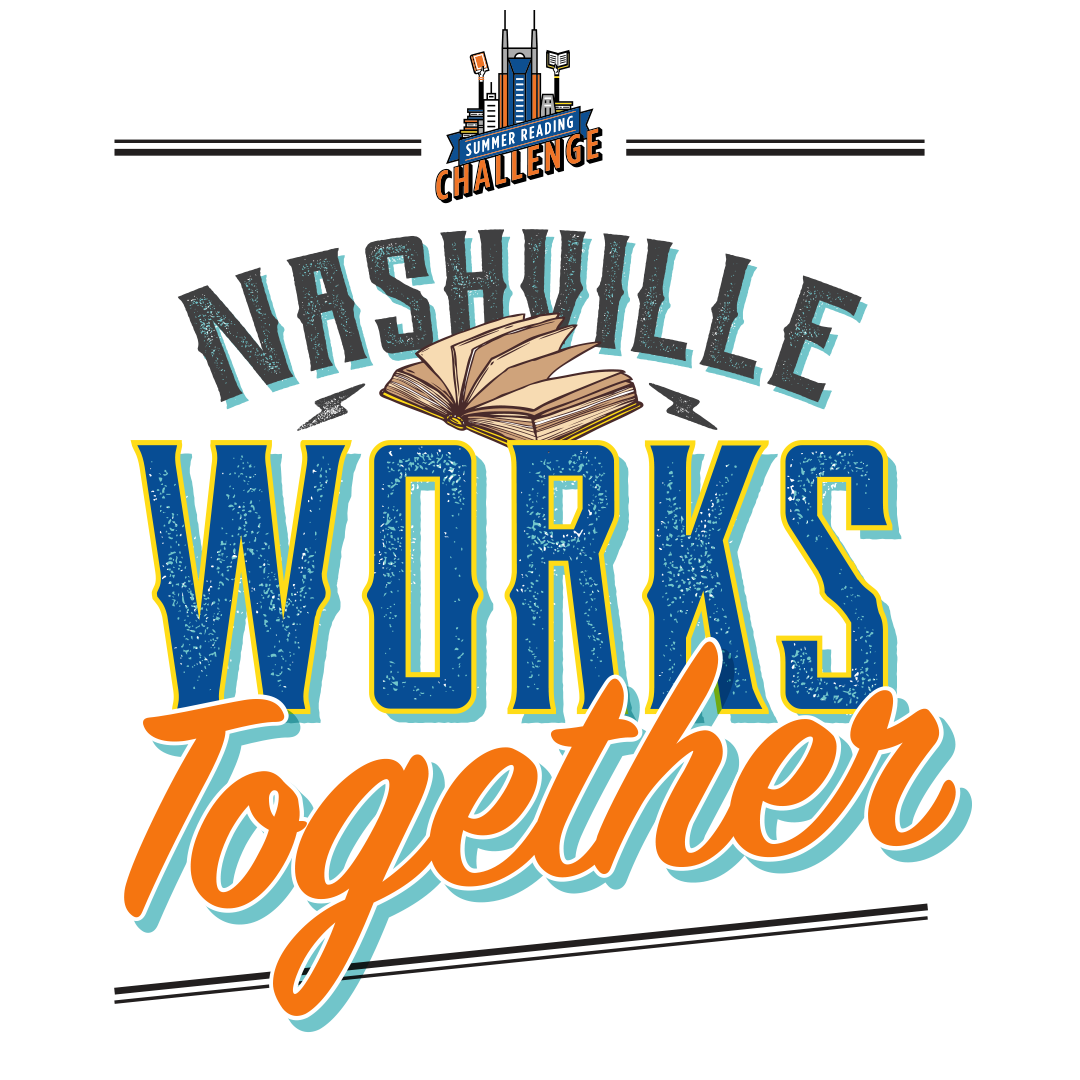 Register Now, Read Until July 31 to Support Local Nonprofits
"Read; track your minutes; earn free prizes."
Longtime patrons of Nashville Public Library (NPL) will recognize these words. For years, they've been the call to take part in our annual Summer Reading Challenge.
And for years, Nashville has answered that call, giving us millions of minutes spent reading each summer as we handed out hundreds of prizes. 
But this year, we're doing things differently. 
This year, we want you to join us as we demonstrate just how much we can achieve when Nashville Works Together.
What's Different This Year
For the 2023 Challenge, Summer Reading = Summer Giving.
We're partnering with three Nashville nonprofits that work every day to make our city a better place for us all: Book'em, Nashville Humane Association, and Oasis Center.
At the end of this year's Challenge, we're splitting a $9,000 donation — with private funds raised by our dedicated nonprofit, the Nashville Public Library Foundation —  to each of them.
And you help determine how much they each get.
For every 15 days you read, you earn a vote to cast for one of these three nonprofits. When the challenge wraps up on July 31, we'll tally the votes and donate to each based on the number each organization received:
1st place receives $4,000
2nd place receives $3,000
3rd place receives $2,000
On that note: notice we said days, not minutes, spent reading. This year — whether you read for 20+ minutes, or only squeeze in a five-minute bedtime story with your kiddos — it counts as a day of reading.
We've also got 15 special activities planned for this year's Challenge. Completing at least five of them nets you another vote.
And don't worry: despite the changes, there are still free goodies to earn.
That includes coupons to local businesses and the return of a grand prize drawing. Each of NPL's 21 locations has a $150 gift card to a variety of bookstores. We'll announce the winners of the grand prize when the Challenge ends.
So, to summarize: 15 days spent reading, and/or completing at least five of the 15 special activities gives you:
A vote in community giving to our partner organizations
A coupon to a local business
An entry for the grand prize drawing
Why The Changes?
Recent research has demonstrated that children who read only for prizes will stop once the prizes are gone.
That's out of step with NPL's goal for our youngest readers to develop a lifelong love of reading.
Studies also show that reading stamina is essential to develop lifelong readers, according to the Children's Literacy Initiative. Twenty minutes a day can seem like a big stretch for many young readers. By tracking reading days instead, kids get a sense of accomplishment and build their stamina — without getting burnt out.
It's a boon for adults and teens, too. We tend to read a little throughout the day, instead of in one long session. You know what we're talking about: the audiobook on the commute to work; the few pages you get through over lunch; the small chunk you get to read before you go to bed. Tracking days instead of minutes makes it easier for everyone to manage.
As a community hub for Nashville, NPL is deeply invested in our city's success. An investment in this year's Summer Challenge nonprofits is an investment in us all.
Meet Our Community Partners 
Book'em
"A future in Nashville where all children own books and know firsthand the joy and value of reading."
It's a simple vision statement, but powerful. With a mission to put books in the hands of every Nashville child possible, Book'em's vision for our city is one we as librarians can fully embrace.
Book'em began in 1989 when four women — Lee Fairbend, Karen Estevez-Gill, Georgeanne Chapman, and Ruth Ann Harnisch — united to find opportunities to assist the local chapter of Reading Is Fundamental (RIF), the largest nonprofit children's literacy organization in the United States, in meeting its needs for books and volunteers. Books were collected and distributed through the Christmas Clearing Bureau, and eventually these distributions were expanded to schools and community organizations — Books for Nashville's Kids was born.  
Book'em grew through the years, distributing tens of thousands of books annually and adding Ready for Reading, a volunteer-based reading program in early learning centers. Book'em merged with RIF in 2006 and now administers the RIF program in 15 Title I Metro Nashville elementary schools.
Since its inception, Book'em has distributed nearly 1 million books to Nashville children.
Nashville Humane Association
There's an overpopulation problem with pets in the U.S.
Every year, approximately 27 million puppies and kittens are born across the country, according to the World Animal Foundation. And every year, approximately 6.3 million pets enter shelters. Only about 3.2 million of them — 51% — will be adopted. One and a half million of them will be euthanized.
But the team at the Nashville Humane Association is determined to ensure that stats like that don't represent Nashville.
Since 1946, Nashville Humane Association has been helping place shelter animals into loving homes, offering outreach and assistance to pet-owning families, and supporting shelters so that euthanization is an absolute last resort, not the first option.
In 2022, the Association placed 3,604 animals into loving homes; rescued 263 pets from abusive situations; distributed more than 19 tons of pet food; and, for the fifth year in a row, celebrated a save rate — the rate that animals entering shelters aren't euthanized — of 99%.
Oasis Center
"Building relationships that advance youth well-being, amplify youth voices, and inspire action toward a just community."
As a community hub and resource ourselves, it's hard for us not to love a mission statement like that. That's why our partnership with Oasis Center makes perfect sense.
 
Primarily known for their youth crisis intervention programs that tackle homelessness, mental health issues, and family trauma, as well as programs that support LGBTQ+ youth, Oasis Center also offers a variety of programs that focus on leadership development, artistic expression, increasing public transit ridership for young people, providing better access to higher education, and more.
With their work firmly rooted in the principles of Positive Youth Development and Trauma-Informed Care, Oasis Center serves more than 3,500 families and young people every year.
Get Started Today
Registration for the Challenge is open now, and signing up is easy.
Head on over to the Challenge page on our website, sign up through Beanstack, and start tracking. If you signed up through Beanstack last year, we've still got your info — just verify that it's still accurate.
You can also pick up paper reading logs in English, Spanish, Arabic, and Kurdish at all of our 21 locations.
A big thank you goes to the Nashville Public Library Foundation, and Amazon, for making this year's Summer Reading Challenge possible.
We look forward to Summer Reading Challenge every year. We get to come together and indulge our shared love of reading, as a city.
And with the chance to inject some love into three local nonprofits, this year is going to be special. 
We're eager to get started. 
And we're eager for you to join us.
Section
Genre / Topics
Age Groups