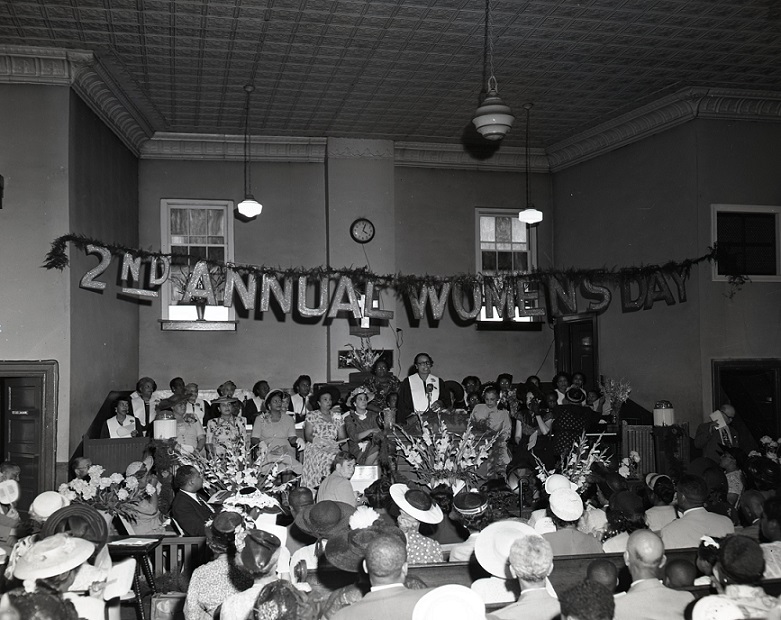 In this month, when we're celebrating women and women's history, I'm bringing you part III in the series of honoring the work of Nashville women.
This series is in conjunction with the exhibit in Metro Archives, Nashville Voices: 36 Notable Women of Nashville, which will remain on display as the Main Library re-opens on March 31st.
Or check out the slideshow of the exhibit here...
In part I of this series, you can read about Dr. Dorothy Lavinia Brown, Minnie Lou Crosthwaite, and Marian Hadley.  
In part II of this series, I focused more on the exhibit itself. But I also focused on a few more individuals: Dr. Josie E. Wells, Georgia Esther Lee Patton Washington, Annie D. Gregg, Bellina A. Moore, and Maggie Porter. 
In part III, we're taking a look at a few more Nashville women that made history, starting with one of the individuals I briefly talked about in part II: Annie D. Gregg.
Annie D. Gregg
I briefly talked about Annie in my second blog post highlighting the work of several Nashville women, but since then, I received a request to learn more about her. Due to unknown reasons, I wasn't able to fulfill that request. Because of this, I'm going to provide a brief bio of Ms. Gregg now. 
As mentioned in the previous blog, Annie and her classmate, Georgia (Esther Lee) Patton Washington, were the first women to graduate from Meharry College as doctors, in 1893.
I contacted Meharry Medical College's Archives, in hopes of finding more info on Annie. While they weren't able to find a photo of Annie, they did provide me with an 1893 class photo and listing. Unfortunately Annie is not included in either but Georgia is...
Side note about Meharry: after reading an excerpt from the book The "Racial" Economy of Science", I learned that Meharry and Howard University were two institutions that played a major role in the education of African American female physicians. And Meharry graduated the largest number of female physicians: 39 by 1920. 
Back to Annie's story...
In a Daily News Journal clipping from 1988, they talk about her life and the many struggles she faced throughout her life.
"Years later Annie D. Gregg sat alone – remembering. She recalled the struggles she faced in order to be sitting in this seat today. She remembered the sacrifices of time and money and the humiliation that sometimes comes with being the first."
Both Annie and Georgia were the first African American women to receive a license to practice medicine and perform surgery in the state.
Annie set up a practice in Nashville, and Georgia furthered her career by traveling to Liberia, becoming the first Meharry graduate to serve as a missionary doctor in Africa.
While Annie went on to live at least until 1938, according to this Pittsburgh Courier that mentions her, Georgia returned to the U.S. after her own health began to fail. She sadly passed away of consumption (Tuberculosis) in 1900, at the age of 36. 
As for Annie's practice, I found her in the city directories from 1895-1901 (starting with the 1894 directory). After that, she's not listed in either the names' section or the businesses (specifically physicians' section).
The first city directory I found her in was in the 1895, where she was listed as a midwife (see below). Also see the 1908 map below that shows the approximate location of the practice on Maple near Garden.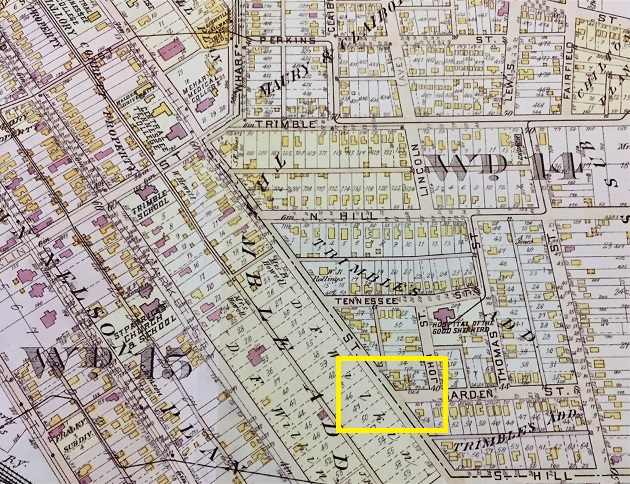 I found her again in 1896 and I think in 1901, but not 1902. She was finally added to the list of physicians as well, whereas in 1895, she was not. 
Corinne Cohn
Corinne was a prominent voice in Nashville during her time. She was a member of the Vine Street Temple (which used to exist where the Main Library parking garage now sits) and the honorary president of the Temple Sisterhood. 
She also served on the National Sisterhood Board, having been elected in 1917. Her daughter followed her on this board in 1929.
She was best known for her work on the School Board, having followed in her father's footsteps (Simon Lieberman), who served from 1903-1907 and again from 1909-1913.
Her father was on the Board when the new Hume Fogg High School opened in 1912. 
Corinne was appointed to the Board in 1927. She was a strong advocate for the city having a middle or junior high school, and one was finally opened in 1929. It was named in her honor after she sadly passed away before it opened. 
Cohn School, off of Charlotte Ave, remained a junior high school until 1936 when the 10th grade was added. After that, a grade was added each year until it was converted into a combination junior and senior high school. In 1940, the first class graduated.
In 1983, Cohn High School was merged with Pearl High School, becoming the Pearl Cohn Comprehensive High School, a public magnet school.
And the previous Cohn School became what is still today an Adult Learning Center.
After her death, Corinne's son, Paul, finished her term on the Board until 1930. And continuing with the family's legacy on the School Board, Paul Cohn, Jr. served on the Board from 1972-1978, during the city's controversial and complicated school integration process. 
Corinne's husband, a well-known philanthropist, was a major benefactor for the Cohn School and continued an interest in the school after his wife's death. 
Here's the label from the exhibit in Archives...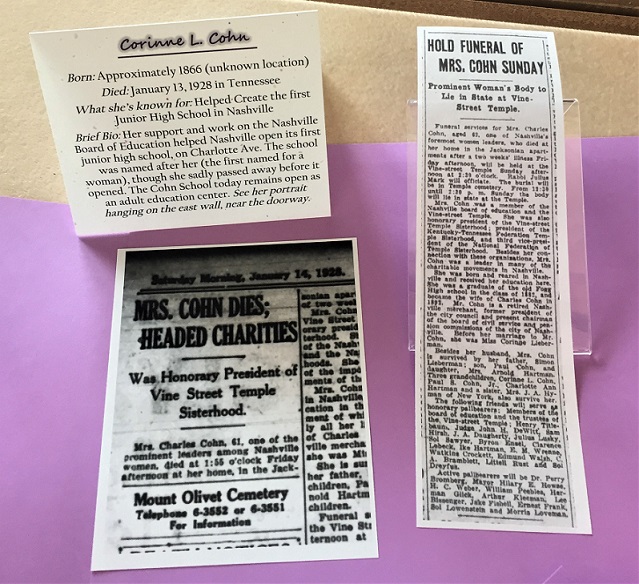 Mattie E. Coleman
Another person I've mentioned before in another blog post about the fight for women's suffrage, Mattie E. Coleman is someone whose named is very much synonymous with Nashville's fight for the 19th Amendment and all women's right to vote. 
Mattie was born Mattie Eliza Howard on July 3rd, 1870, in Sumner County near Gallatin, TN. She was raised as the oldest of 4 children by a minister (Reverend Howard); her mother was unknown. 
She finished high school at the age of 15 and continued her education at Central Tennessee College (renamed in 1900 to Walden Univ). She then pursued her medical degree at Meharry Medical College, graduating in 1906, and later in 1932, she became the first graduate of Meharry's dental hygiene program.
Her faith was an important part of her life since she was young, and that continued after she got married. In 1902 while studying at Meharry, she met P.J. Coleman, a minister in the Colored Methodist Episcopal Church (CME). She then converted to his religion. 
Mattie opened a practice in Clarksville when they were sent there for her husband to become the pastor of the Wesley Chapel CME Church. Part of her work at her practice was missionary as well, as she assisted patients that were experiencing poverty or in need. 
Within her church, she was an avid fighter for women's rights; and outside of the church, she was as well as I've already mentioned. But along with several other women, it was an important mission for Mattie to fight for women's roles within the organization - especially on a national level.  
So in 1918, she helped establish the Woman's Connectional Missionary Society, which was the first woman-run society within the CME Church. She then became the first president of the society, maintaining that position until 1939.
The last thing I'll talk about regarding her hard-work and accomplishments, before bullet-pointing a few more facts about her, is her work advocating for women's suffrage. 
A year before the 19th Amendment was brought to Tennessee's vote, Mattie worked with fellow-suffragist J. Frankie Pierce when the TN General Assembly passed a limited suffrage act; their efforts helped organize 2,500 African American women to vote for the first time in the municipal elections. Their efforts helped the following year when the 19th Amendment was ratified.
But to wrap things up because I could keep going on forever, here are some other important facts about her and her work. If you're interested in reading more about her, here are 2 resources I used...
And a few more facts...
She helped establish Nashville's Bethlehem Center where they are still providing community outreach services today. 
In 1909, she became the first dean of women and medical advisor at Lane College in Jackson, Tennessee.
She was a Tuberculosis advisor. 
She produced articles for the A.M.E Review. 
She was a superintendent of the Tennessee State Vocational School for Girls.
She passed away in 1943 and is buried in Greenwood Cemetery in Nashville.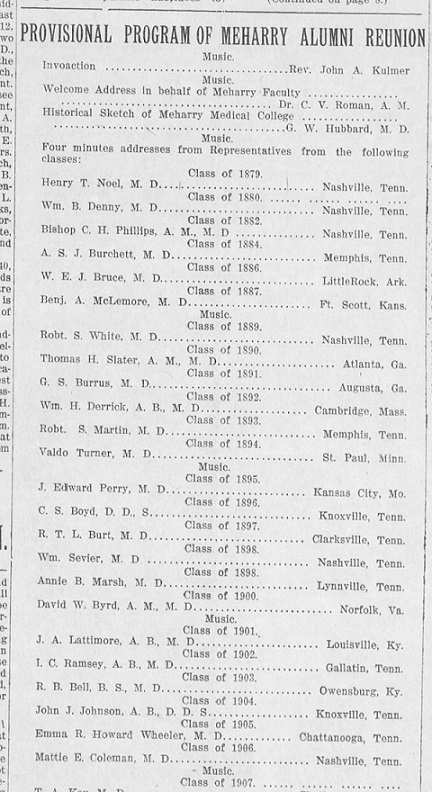 Though the 36 Notable Women of Nashville display in Archives actually started last year, pre-COVID-19 quarantine, I've decided to keep it up for the Library's re-opening on March 31st. I have no end date in mind as of yet, but there is an exhibit planned for June 2021, celebrating the 20th anniversary of the Main Library's building on Church Street. 
'Til next time, 
Sarah 
You might also like...
Section
Genre / Topics
Age Groups