New Computer Users
12 Ways Being Online Can Improve Your Life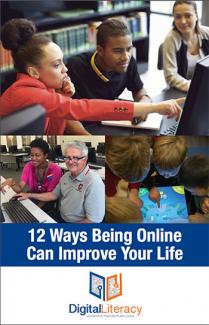 Have you ever wondered if access to the Internet is important? Are you interested in using technology but not sure how it can impact your everyday life? Do you want to know more about the types of things you can do with your smartphone?
If you answered yes to any of these questions, this brief guide is for you.
Each section includes a brief overview of how technology affects a different part of your life, 3 things you can do today with Internet access, an interesting technology fact, and one way you can get started!
This brochure is adapted from a document created and copyrighted by DC Government and used with its permission.
Find Low-Cost Internet Service
Online Learning Resources
Training Courses
Skills Practice
eBooks, Streaming Music, and More
At the Library
Technology Available
Public Computers. Free, no library card needed. Available at all library locations.