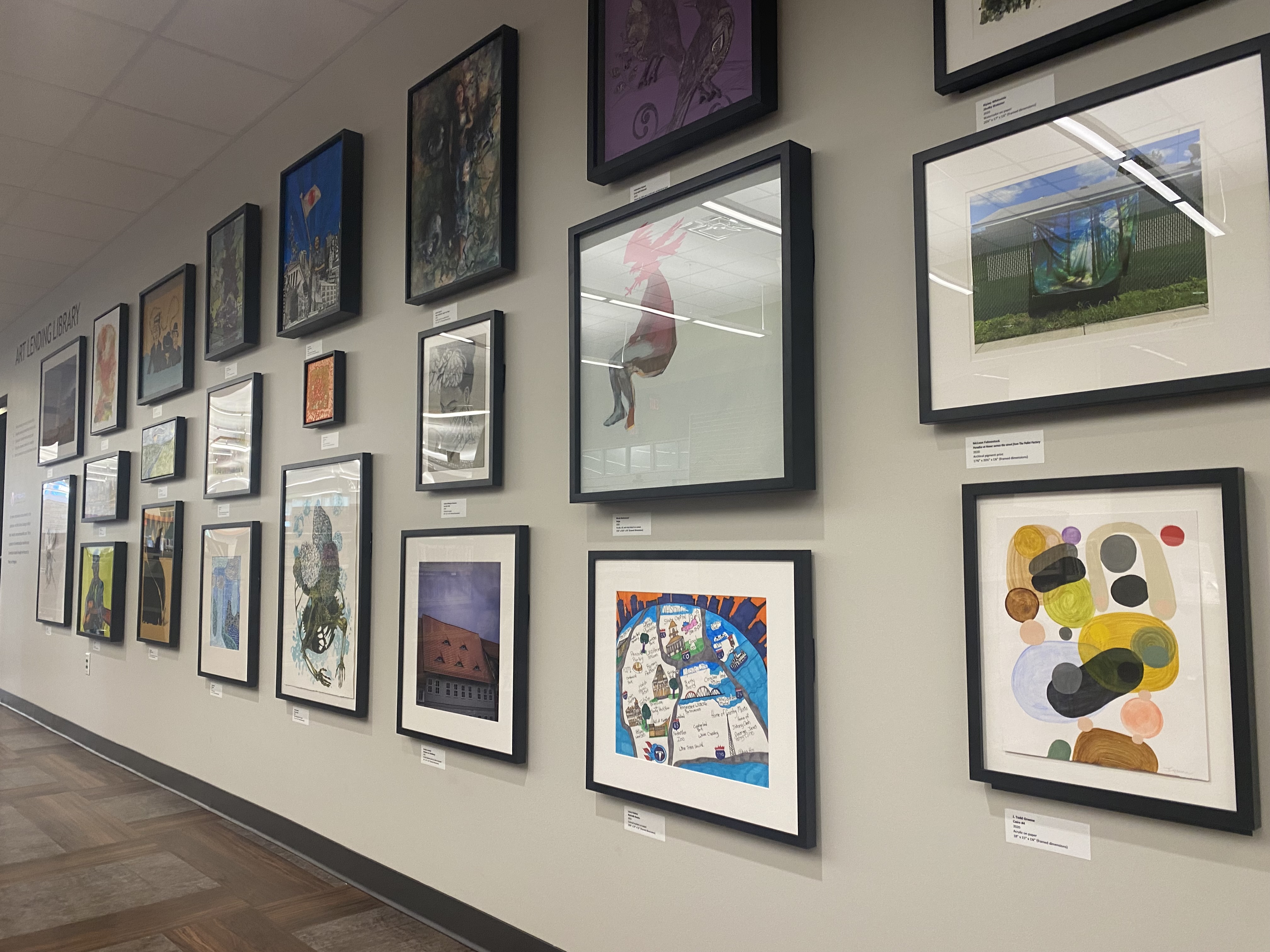 60 Unique Pieces Available Now Through our Metro Arts Lending Library
Artwork can be kept up to three months
Each piece must be reserved and picked up at the owning NPL location
To browse the collection, visit our website
How cool would it be if you could "rent" a piece of artwork to hang in your home? Say, for a party you're hosting or just to admire and reflect on with your family?
Now, at Nashville Public Library (NPL), you can.
In partnership with Metro Arts, NPL recently launched the Art Lending Library at our Madison and Southeast Branch Libraries. This new collection features a single work by 60 different Nashville artists that you can check out and keep for up to three months.
What's in the Collection?
From oils to water colors to charcoal drawings, each piece has a unique theme and presentation. Whether you're into impressionism, still lifes, collages, or something else, the collection has something for everyone.
Each piece includes a wire or hook on the frame for hanging — a nail should be enough to hang your piece, if you choose. Our librarians will also provide a protective case for you to transport your artwork.
How Do I Check Them Out?
First, browse the collection in our online catalog. From there, select the piece that's most appealing to you and click on it. Once you determine whether it's available at the Southeast or Madison locations, call that location to reserve your artwork. Then, simply drive to the owning branch and pick it up in the lobby. 
You can also complete this entire process in-person at both the Madison and Southeast locations.
What Are the Rules for Checkout?
Only one piece per library card may be checked out at a time. You can keep artwork for up to three months, with one three-month renewal allowed if there are no other holds on the piece. If you don't have a library card, you can sign up for one on our website.
Artwork must be returned to the location it was borrowed from during business hours. Please do not ever return artwork using the book drop.
Artwork is not for sale. If you wish to purchase other pieces by the same artist, please visit the Metro Arts Lending Library website for contact information.
Section
Genre / Topics
Age Groups