StoryCorps is an American non-profit organization whose mission is to record, preserve, and share the stories of Americans from all backgrounds and beliefs. In 2007-08, StoryCorps operated a recording booth inside NPL's Main Library. I had the honor of serving as an interview facilitator at the Nashville booth, and I'm writing this blog series to highlight some of our community members' interviews.
"They were jumping out of buildings in the big cities"
There aren't many folks still with us who can remember what it was like when the Great Depression hit. When Murray Tatum was 101 years old, back in September of 2007, his sons Bryant and Larry brought him to the Nashville Public Library StoryCorps booth to share his memories of that fateful time. Have a listen:
Murray Tatum StoryCorps Interview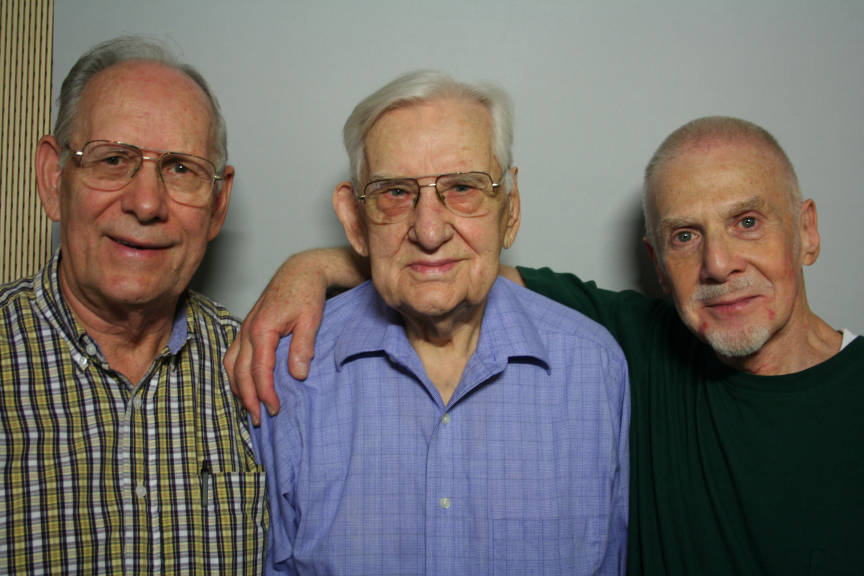 Black Monday
In the interview, Mr. Tatum's son Larry asked his father what he remembered about Black Monday. Black Monday occurred on October 28, 1929, when the Dow Jones Industrial Average dropped almost 13 percent. It was followed by Black Tuesday, when the market dropped nearly 12 percent. In less than a month, from late October to mid-November 1929, the Dow lost almost half of its value and didn't fully climb back up to its pre-crash peak until 1954, 25 years later. 
The November 14, 1930 photo below, from NPL's digital collections, shows the bank run on the Tennessee Hermitage National Bank of Nashville, Tennessee (306 Third Avenue North). According to the item description, "the photo was taken at about 1 p.m. and the line up at that time extended half a block down Third Avenue and East on Union Street for over half a block. Pictured in front of the bank and the Baxter Building (216 Union Street) the crowd was orderly, as word had been sent down the line that every depositor would be paid in full, if demanded. The bank closed at 2 p.m. with a long line still unable to get in. The Tennessee Hermitage National Bank paid all comers until closing time, but Friday night, effected a consolidation with the Commerce Union Bank. It opened for business the next day under the supervision of the Commerce Union Bank. The Great Depression saw the closing of over 120 southern banks closed in November and December of 1930 and thousands of depositors lost their life savings."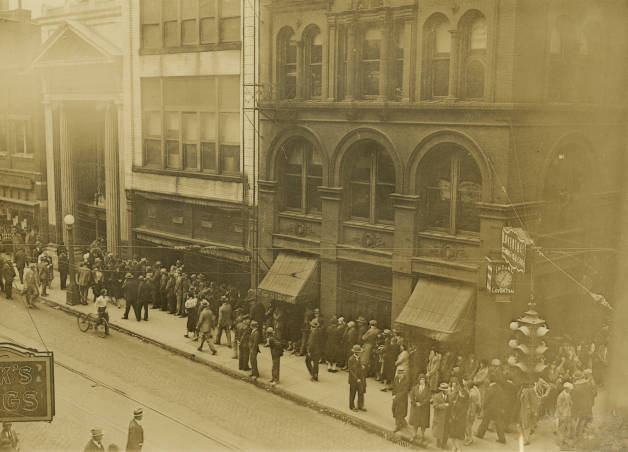 Pig Problems
Mr. Tatum was already a young man of 23 in 1929, and as he tells it, he remembers a lot about that time, including his father having to butcher 40 head of hogs because they lost their value in the blink of an eye and he had to get what he could for them. In fact, during the Roosevelt administration hog prices fell so low that the President had to act to help the rural poor. But -- instead of trying to increase demand to keep up with the overabundant supply of hogs, he went a different route.
In 1933, the Roosevelt administration started killing baby pigs. While some of the excess meat was donated to food relief programs, much of it simply went to waste. This was problematic for many reasons, not least of which is the fact that many people were out of work and experiencing hunger. People didn't take too kindly to seeing all of that food wasted just to raise hog prices. Due partly to public outcry, the program was never repeated. 
Learn More
As usual, NPL has you covered. Check out this selection of books about the Great Depression:
Want to Keep Listening?
If you'd like to hear more first-hand accounts of life during the Great Depression, head on over to StoryCorps for a handful of interview excerpts that have been edited down and aired on NPR's Morning Edition over the years.
Section
Genre / Topics
Age Groups