Nashville Public Library presents curated exhibits in the Main Library Courtyard Gallery and at Branch Libraries. Galleries are open during regular library hours. All exhibits are free and open to the public.
Current and Upcoming Exhibits
Main Library
A powerful collection of works from local artists with special needs. Come view these works in the Main Library's Children's Department, across from the Children's Theatre.
Main Library
Explore the 100-year history of the Junior League of Nashville and its work to develop women leaders who tackle some of the most critical needs in our community. The exhibit includes historical memorabilia and photos that showcase the power of voluntarism and the women who helped incubate and accelerate countless community programs, including many nonprofit organizations. Since 1922, the League has contributed millions of hours of direct volunteer service and provided nearly $22 million to bring about many services in our city.
Online
Summer reading program designed specifically for Deaf and Hard of Hearing children aged 0-13 and their families. For more information contact lsdhh@nashville.gov or brenda.boaz-pond@nashville.gov.
Public Art
In 1998, prior to the passage of the city's Percent for Public Art ordinance, Nashville Public Library chose to allocate $600,000 of its construction budget to public art. Since 2000, with the passage of the public art ordinance, funds have been allocated for public art in all new library buildings.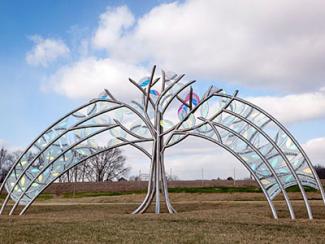 Great Beginnings
Beverly Stucker
2014
1% for Public Art Program
This large steel and glass sculpture provides an iconic backdrop to the many activities that take place in the library's outdoor gathering space.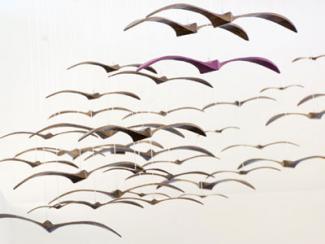 Rise Above
Brenda Stein
2014
1% for Public Art Program
Stein's suspended wood sculpture is inspired by the Bellevue community's resilience and the limitless possibilities of books and learning. Above the circulation desk and the tech commons, nearly ninety birds gracefully soar together past the clerestory windows.
Goodlettsville Branch Library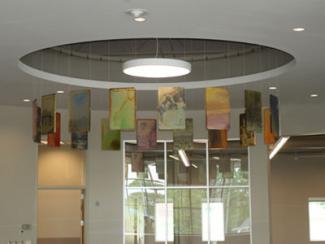 Continuum
Carrie McGee
2010
1% for Public Art Program
Continuum is a series of acrylic tiles that reference the history of the Goodlettsville area and the role of the library as a source of information. The book-like tiles include historical images from Goodlettsville and rust impressions from local items.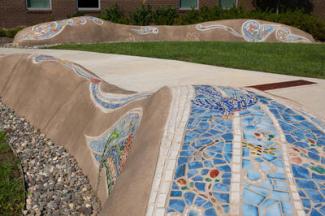 Seasons from a Bird's Eye View
Paige Easter and Don Goostree
2011
1% for Public Art Program
Seasons from a Bird's Eye View is a series of mosaic structures located throughout the Goodlettsville Library's Garrett Memorial Garden. Nashville artists Paige Easter and Dan Goostree designed them to create an enclosed garden space behind the library. The mosaics depict history, edible gardens and color gardens.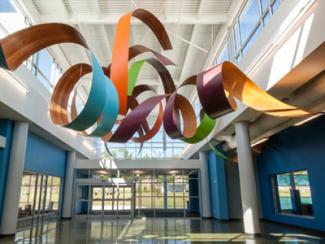 From the Four Corners
Paul Vexler
2014
1% for Public Art Program
This large sculpture was heavily influenced by the communities surrounding the branch library and community center. Vexler describes From the Four Corners as "a sculptural metaphor celebrating a rich diverse community."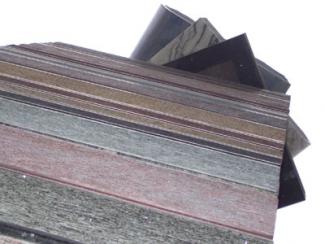 La Storia della Terra
Kubach-Wilmsen Team
2001
Commissioned by Judy and Noah Liff
La Storia della Terra (The Story of the Earth) is a 20-foot tower of stone books. The sculpture was created near Mainz, Germany. There are 26 books, one for each letter of the English alphabet. The granite, marble, and quartz stones originate from five continents.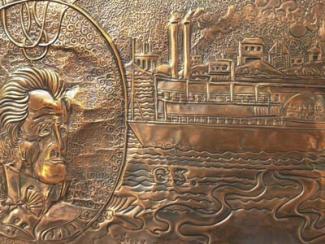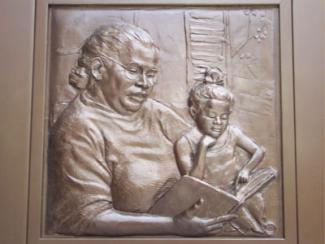 Bronze Doors
Alan LeQuire
2001
The Library's great bronze doors were created by Alan LeQuire, a Nashville artist. The doors depict the native plants and animals of Tennessee, as well as scenes of people reading and learning. These scenes are visible when the library is open. When the library is closed, you see the reverse side, which is a simple, classical design.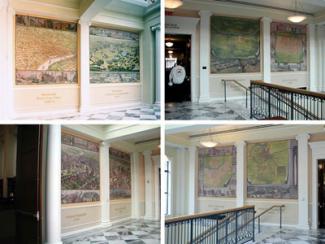 Nashville, a History Through Maps and Aerial Views
Richard Haas
2001
Eight mural maps that explore the topographic and historic urban development of Nashville, TN. Inside the reading room, the mural culminates in a half medallion above the entry doors. Haas' sources of inspiration for this project were "The Gallery of Maps" in the Vatican commissioned in 1580 by Pope Gregory XIII, and the architectural works of William Strickland that once graced, or still stand proudly within, the urban core of Nashville.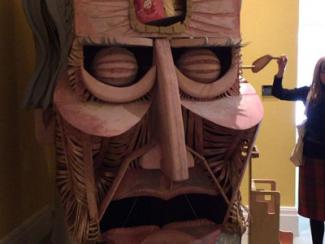 Sam Watkins' Head
Wayne White and Watkins College Students
2010
Wayne White was a visiting artist at Watkins College when he hosted a workshop to create this large, interactive sculpture of Watkins College of Art and Design founder Samuel Watkins. Come by the Children's Department to turn the crank that rotates Sam Watkins' eyes.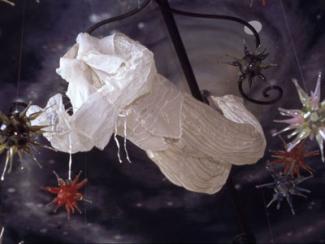 The Prince
Adrienne Outlaw
2001
Mixed media including heavy gauge aluminum wire, The Prince was inspired by Antoine de Saint-Exupéry's book The Little Prince. It hangs in the Craft Room in the Children's Department on the second floor.
Exhibit your work at the Library
Submit proposals for the Main Library Courtyard Gallery to the Library's Arts Coordinator. To exhibit at a branch library, contact the Branch Manager.
Please review our exhibition policy for complete submission guidelines and criteria.
Request a Tour or School Visit
Main Library offers guided tours, educational experiences, and self-guided tours. Tours should be scheduled at least 1 week in advance. Educational Experiences should be scheduled at least 2 weeks in advance. We encourage you to reserve early because group visits are very popular. A library staff member will contact you to confirm the date and time for your visit. Learn more and make a reservation.