Summer Reading
Reading is for everyone! May 16–August 20, join thousands of Nashvillians as we read (or listen to audiobooks!) and earn prizes. No library card required.
Sign Up for Summer Reading on Beanstack
Join thousands of Nashvillians as we read (or listen!) for the Summer Reading Challenge. Register on Beanstack for free, log your reading, and earn prizes. No library card required.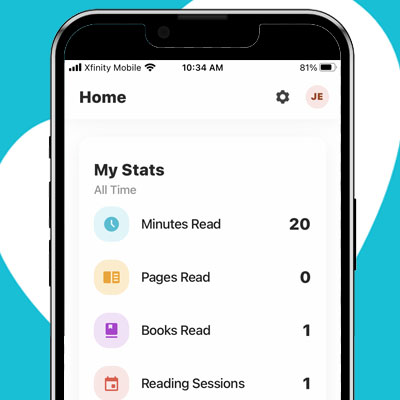 How to Participate
Individuals and Families
We're using a program called Beanstack to track reading. Join us on the Beanstack app, or print a paper log if you'd rather track reading offline. 
Register online, over the phone, print a paper log, or pick up a paper log at any NPL location and select community partner organizations.
Read (or listen to an audiobook) for 600 minutes to earn a prize. Keep reading (or listening) for more chances to win additional prizes.
Log your minutes via our website, on-the-go with the Beanstack app, or keep track with a paper log.
Visit any NPL location to pick up your prize.
Groups
To complete the program, the group must read 300 minutes.Groups may count ten (10) whole-group reading sessions as 300 minutes. Whole-group reading sessions can be:
a circle time,
a story time,
30 minutes of "drop everything and read,"
or whatever works for the group's daily routine.
Participants may sign up as a group if they are part of a daycare, summer camp, senior center, or other organization. Families may not participate as groups. They must register each member individually.
Participants who complete the program as a group are also allowed (and encouraged!) to complete the program individually to redeem individual-program prizes.
To sign up as a group, please contact your local library branch.
---
Prizes
600 Minutes
Read at least 600 minutes to complete the program and earn a prize. 
Listeners (age 0–5 years): Six Color Crayon
Readers, Teens, and Adults (age 6–up): NPL Summer Reading Challenge Enamel Pin
1200 Minutes or More
Read 1200 minutes and earn coupons for prizes at businesses around Nashville. Read 1800 minutes to earn more coupons for prizes at different businesses around Nashville.
---
Track Reading Online Using Beanstack
What's Beanstack?
Beanstack is a service for tracking reading. Nashville Public Library uses Beanstack to manage our reading programs. Metro Nashville Public Schools (MNPS) also uses Beanstack for reading programs. If your child is a student at MNPS, you can link their school and public library Beanstack accounts. 
Link your library and school Beanstack profiles!
Make sure all your logged reading counts at school too. That means more challenges, badges, and achievements—with less work!
Download a PDF instruction sheet or follow the instructions below. 
Log in to your Beanstack account by going to nashville.beanstack.org.
Find the "Link Profile" button at the top of your Beanstack homepage.
Select your school and enter your school login information. 
Your profiles are linked. Now you can log reading and earn minutes read in both NPL and MNPS reading programs all in one place!
---
Paper Reading Logs
Print a Log
Print a log to keep track of your reading on paper.
Individual Reading Logs
Group Logs
Find a Log
Summer Reading Challenge logs are available at supporting organization locations in the Nashville community.
Frist Art Museum
Country Music Hall of Fame
Hispanic Family Foundation
Conexión Américas
Curious Capybara
Bookshop
McKay's Nashville
Parnassus Books
Thank You to Our Community Partners
Summer Reading Superstar
Summer Reading Advocates
Summer Reading Enthusiasts
Summer Reading Devotees
Summer Reading Aficionados
Summer Reading Connoisseurs
Partners