Archives Artist in Residence Program
Applications for the next artist in residence open in January  2023.
The Archives Artist in Residence (AIR) program re-imagines the role of the archive in the community by supporting one creative project a year that incorporates archival footage. Our Artist in Residence works directly with archives staff to develop a preservation and creative access plan for footage that might otherwise be lost forever. The project culminates in a public screening of the new work.
Current Artist in Residence
AIR 2021: Beizar Aradini
(title in progress)
Beizar Aradini (b.1991) was born in Mardin, Kurdistan and immigrated with her family to Nashville, Tennessee in 1992. Her work unravels her family's story as immigrants and examines cultural displacement through craft and fiber arts. Aradini addresses cultural shifts and challenges that arise in diasporic life while also reclaiming the historical coding of sewing and embroidery as "women's work".
Aradini's AIR project preserves aging and endangered home movie footage of first and second generation Nashville-based families who immigrated from Kurdstan, and provides families with a digital copy of their home movies. Aradini will also create a new work in collaboration with oud player, Sawar Abdullatif, and video producer, Pablo Zuniga.
I am proposing to create a new video that will incorporate older footage of the Kurdish community and new footage of Kurdish spaces and experiences in 2021. Most of the Kurdish population immigrated to Nashville in the earlier 90s. After thirty odd years, the community has grown tremendously. My goal is to highlight the growth of the community and expansion of Kurdish spaces in Nashville since when we first immigrated to America. - Beizar Aradini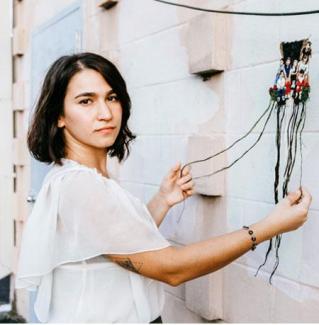 Past Artists in Residence
AIR 2020: Lesa Dowdy
People, Places, Things
Lesa Dowdy is an artist from Nashville, Tennessee who uses film and photography to share unique stories and visuals that she hopes will serve as an inspiration to others. Her main area of focus is in docs-style and unscripted media. When she's not working on a project, she can be found mentoring and sharing her talents with the youth in her community.
People, Places, Things serves as a unique visual and musical tour through the history of Nashville, TN. It takes you on an abstract journey using a mix of archived footage and present day video to showcase the different people, events, and landmarks that have made the city what it is.
Music for People, Places, Things was composed by Benjamin Chakoian Jones and performed by Intersection music ensemble. This project is created in collaboration with The Parthenon and the Centennial Park Conservancy as part of the Echo Series. The premier of the film with live music is delayed due to COVID-19 and will occur in 2022.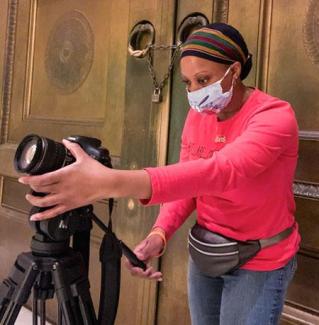 AIR 2019: Brian Siskend
Time Out of Mind: Early Hindsights of New Nashville
Artist Brian Siskend creates sublime and contemplative films, organic electronic music, and textural abstract art using video, photography, and sound. Siskind's drone cinematography and documentary work have been featured on major networks, film festivals around the world, and Siskind was named "Best Drone Filmmaker" by the Nashville Scene. Siskind's music has been heard on Grammy winning records, the electronic music underground, art installations and performances in world renowned fine art venues including the Rothko Chapel and The Frist Art Museum - as well as national ad campaigns for brands including American Express and Adidas.
Time Out of Mind: Early Hindsights of New Nashville explores the psychology of change, nostalgia, and relational memory amid rapid change in Nashville using drones, archival film, and sound art. It incorporates archival footage from Metro's Audiovisual Heritage Center, come of which has not been seen in over half a century. This project is a partnership with Fort Negley, and premiered in 2019.