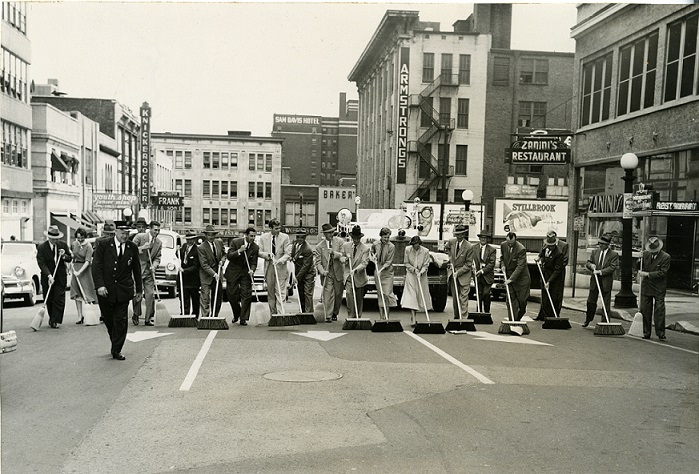 It's that month when we get to officially celebrate the wonder and beauty of this third rock from the sun. I'm channeling Neil deGrasse Tyson's enthusiasm here, but it never ceases to fascinate me just how amazing our planet is, especially with its conflicting significance and insignificance in the universe. Very "far out"! 
And I could happily go on about the universe and other planets, nature, hiking, and the best planet-related shows in existence (anything narrated by David Attenborough) for days but I'd be digressing. In honor of Earth Day, this post is covering the history of the City Beautiful Commission that Nashville established in the early 1950's, in an attempt to clean up the city. 
And once you're done reading this post, my suggestion is to head outside and celebrate Earth Day properly - away from most technology, and social-distancing too, of course. 
Early Messy Years in Nashville
I tried my best to keep this post brief this time for obvious reasons, and also because I'm no expert in this area but I'll talk about what I know of Nashville's "cleanliness" past. First, the fact that the city had more than one Cholera outbreak during the 19th century says a lot about the city's drinking water situation in the 19th Century. 
Also, it wasn't uncommon for citizens to deposit their waste into the gutters and alleys, or even the Cumberland. Though laws were eventually established to help eliminate this type of pollution. 
Reading the 1912 City of Nashville Annual Report, you learn that in that year alone - there were over 119,000 cart loads (not sure the measurement of a cart) of ashes and trash removed from alley and private property. It was the responsibility of the Scavenger and Street Cleaning Depts. to keep the city cleaned up during that time, and it looks like their responsibilities might've increased over the years...
Mayor Howse appeared to be quite an advocate for cleaner neighborhoods, and even believed cleaner areas meant healthier citizens and less disease. A 1913 clipping talks about "Clean-Up Days" that were designated in the spring 
(not sure how long this occurred) that asked for citizens to cooperate with the mayor and government in "making their premises clean and sanitary." 
The article goes on to talk about asking citizens to co-operate by the "...destruction of all rubbish, offal, garbage, etc. around their premises." They were asked to burn their garbage (clearly before understanding the dangers of burning trash). And for the garbage that wasn't able to be burned, the Scavenger Dept. would eventually pick it up. 
Another thing you easily realize in this article is when he's discussing the dangers of "accumulation of waste, rubbish, refuse and other vegetable matter..." - clearly this is also way before composting. 
Also reading the 1947 Nashville City Code, there were several laws written in great detail to help prevent the depositing of harmful waste into public spaces. Here are a few...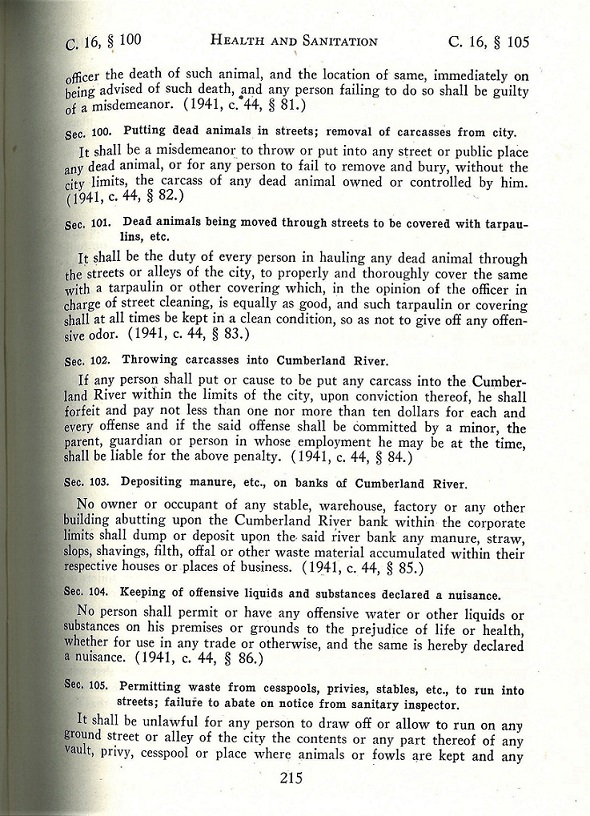 I'm sure there's plenty more that can be discussed regarding Nashville's history of cleanliness (or lack thereof), but I'm going to recommend a few other blog posts I've written, if you're curious about other aspects of the environment here...
Smoke Abatement post - If you'd like to learn about the city's history with smoke and coal. 
Signal Service post - If you'd like to learn about the early years of the National Weather Service in Nashville. 
The City Beautiful Commission 
So the purpose of this particular commission is self-explanatory in the name, but allow me to provide you with some background info and most of all - some great photographs (starting with the one above) from the scrapbooks created by the commission.
When it was established by the Mayor and City Council:
In June, 1953.
It's Purpose (straight from the Bill No. 53-283): 
"Section 3: that the duties and powers of the commission shall be to study, investigate, develop and carry out plans for improving the health, sanitation, safety and cleanliness of the City by beautifying the streets, highways, alleys, lots, yards and other similar places in the city; to aid in the prevention of fires, diseases and other casualties by the removal and elimination of trash and other debris from the streets, highways, alleys, lots, yards, plots and other similar places; to encourage the placing, planting and preservation of trees, flowers, plants, shrubbery and other objects of ornamentation in the city; protect song birds and other wild fowl; advise with and recommend plans to other agencies of the city for the beautification of the city, and otherwise promote public interest in the general improvement of the appearance of the city; provided, however, that nothing herein shall be construed to abridge or change the powers and duties of the other commissions, departments, boards and like agencies of the city." 
Rather lengthy, I know, so here are a few other objectives they had to summarize:
"Arousing a sense of responsibility and pride in clean, safe, healthful and attractive surroundings." 
"To develop a sense of responsibility toward public and private property."
"To develop the following habits: putting trash and litter in proper disposal units; care of trees, shrubs, flowers and lawns; good housekeeping habits at home, in the parks, on streets, sidewalks and highways, in alleys and public buildings."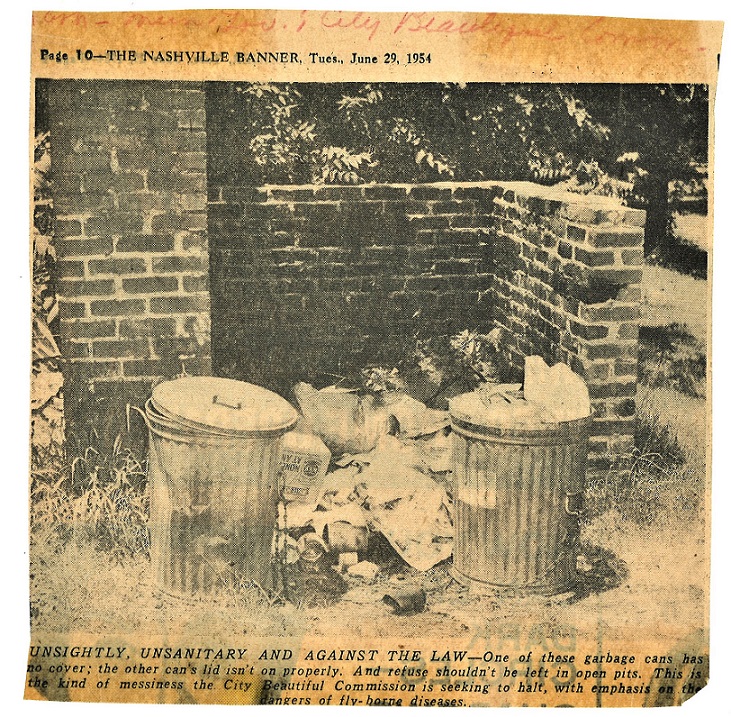 Why? Was Nashville That Dirty?
Well you read the first part of this post and have a rough idea of what Nashville's environmental and cleanliness presence was like in the 19th to early part of the 20th century. If you read my post about the Smoke Abatement Commission, you are also familiar with the "smoke nuisance" that Nashville had from the burning of coal, and how they took a pro-active approach to alleviating that issue.
Allow me now to provide a direct quote from a 1953 article by Dick Battle of the Nashville Banner...
"Ever seen Nashville from an air-liner coming in for an early morning landing? Glint of sun on rooftops, the ordered pattern of streets...Nashville is beautiful from 1,000 feet. But get your feet on the ground and walk down a back alley. Roll into town by train. Thread your way through some of our slum districts (for there ARE slums)...and see beauty disappear." 
Subtle, huh? That was Dick Battle for you.
If I had to take a guess of my own though, as an up-and-coming city after the end of the war, with more personal vehicles becoming a regular thing as well - pollution was more than likely pretty common here, whether it be from cars, commercial vehicles, lack of public trash cans - you name it. 
This clipping from the Tennessean from 1945 addresses this issue but also talks about how the issue with litter is partially the city's fault for lack of frequent collection...
It was also probably a little city envy as well, as several other cities including Baltimore, Memphis, and a few other southern cities already had one of these commissions. So a couple of women's groups in Nashville created a proposal to the City Council and Mayor, asking to create a commission modeled after Memphis' commission. 
It didn't take that much convincing apparently, as it was proposed in February, 1953 and approved in June of that same year. 
We Won Awards! 
Apparently the efforts of the commission were quite successful, which included the help of other departments such as the police dept., in enforcing laws "pertaining to the health, sanitation and welfare of the residents of Nashville." 
Nashville became three-time winners of the Ernest T. Trigg Trophy as America's cleanest city as of 1962. They also placed first in their population group, four different times. 
We actually have that trophy in our collection! Check out a photo of it below!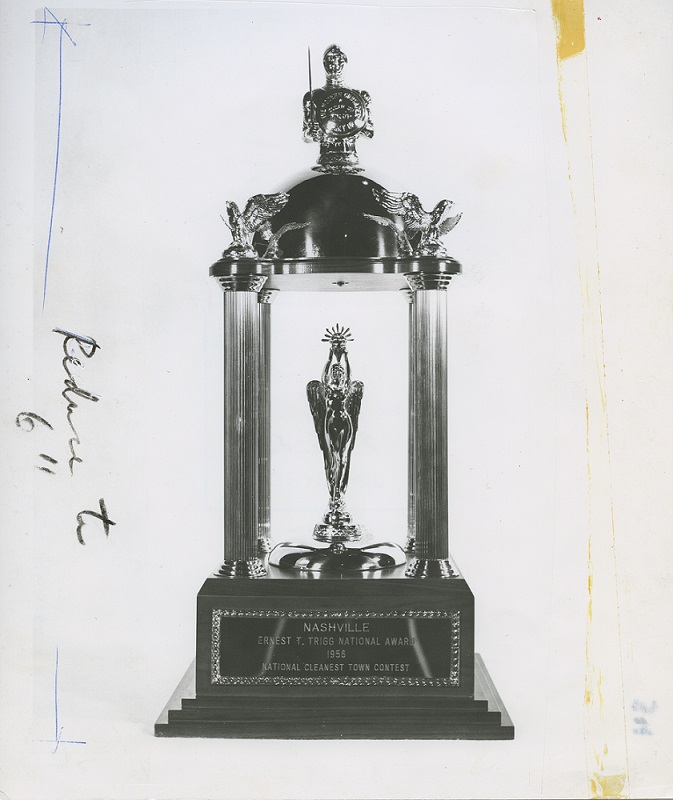 In 1975, the Commission became a division of the Metro Parks' system. It changed names, probably in 1963 after consolidation, to the Metro Beautification & Environment Commission. They continued to win awards under Mayor Fulton's helm as well. See the image below of a congratulatory ad on a billboard, in front of Union Station.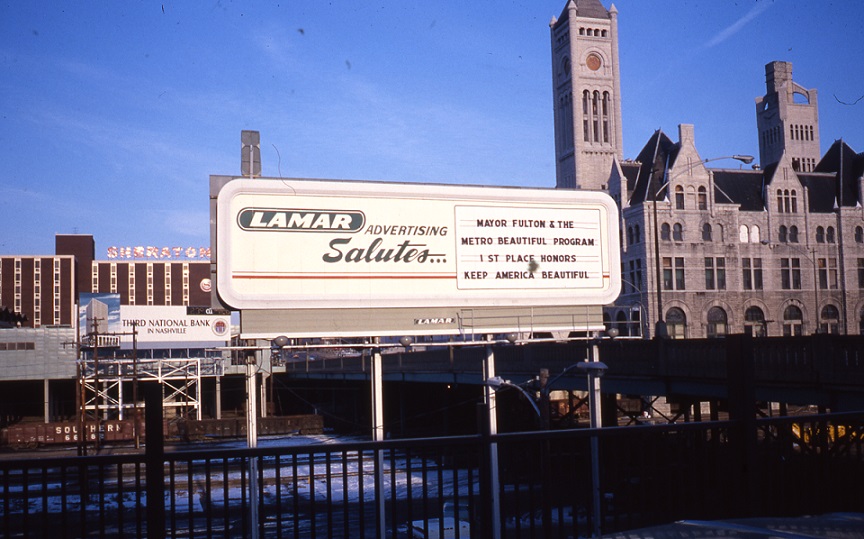 In July, 2005, it became a part of the Metro Public Works division, which makes the trash and bulk-item-pick-up process much more efficient (according to a 2013 Mayor Dean memorandum). The programs also expanded to include the recycling and waste-reduction education that we're familiar with today. 
Check out the Metro Public Works website to learn more about the program. 
I could keep going on about the work of the Beautiful Commission, such as their spring "Clean-Up, Paint-Up, Fix-Up" Week that I briefly mentioned already above (from 1913), with the call to citizens for help in straightening up their personal property.
Or talk about the fall "Anti-Litter" Week that coordinated efforts with the schools and fire dept. - but I'm leaving you now with images from the scrapbooks instead. I'll admit, they can be a little cheesy but they are also unique because they're photos of Nashville not found anywhere else. Enjoy! 
Section
Genre / Topics
Age Groups