I originally wrote this blog post for March, 2018, because for some unknown reason, genealogy research seems to pick up around the end of February through March. Well, the trend has occurred again during quarantine, and this time makes more sense - you're home and you figure, why not? For whatever reason, we welcome the frequency of usage of our genealogy records. Here's a list of our most helpful and commonly-used materials, and some other tips when doing family research, with a few new additions. UPDATED AGAIN IN 2022 WITH THE ADDITION OF ANCESTRY LIBRARY EDITION TO THE LIBRARY WEBSITE!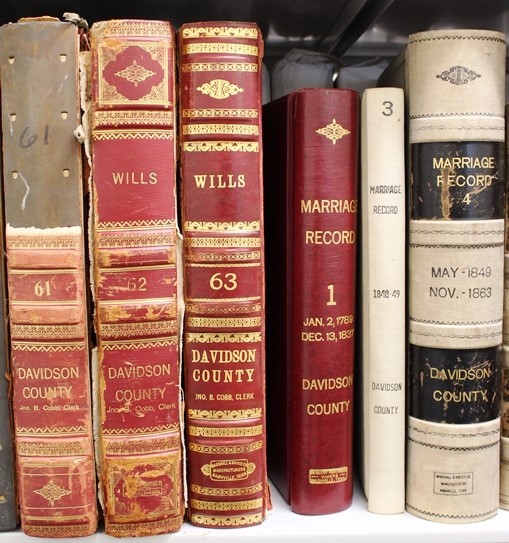 Before giving you the list of our materials, I'd like to clarify to those that are reading but are not familiar with genealogy research, that genealogy is no easy task. Many individuals that have traced their families back several centuries have spent A LOT OF TIME (and money in some cases) doing it. While it's always worth it, just know that it's not a process that will yield all answers overnight, (unless a family member has already done the work for you, like my family). But you also don't need to be a professional for this kind of research, just patient and willing to do the work.
It's also important to clarify for researchers planning to visit us that not all of the materials listed below are in one location. We do not have a genealogy corner set-up for easy access, so knowing what you specifically want to see, and names and dates is highly helpful for us when assisting you in this process.
If reading everything I've written below doesn't satisfy you (you're a saint if you do read it all), and you want to know more, here are a couple of websites that will further broaden your genealogy mind:
Since writing this blog post, we've now transitioned our website under the umbrella of the Library website. It's the same materials we had on our old site but mixed in with all the other resources the Library offers. 
This database is a project that Kelley and several of our volunteers have been working on for a while. It's a searchable online database of enslaved and free people of color in Nashville, in an effort to make genealogical information more accessible to our researchers. While most of the information of each individual comes from our will books (dated 1780-1865), this project is still ongoing as we index our deed books and court records, that also contain a wealth of information. 
One of the top links you find when searching "genealogy" in Google is the National Archives' website. There are many helpful tools and other websites that they provide for you here if you'd prefer to check them out (you won't hurt my feelings). They even reference our Library site as a useful link, which brings me to my next recommendation...
This page is short, but very sweet. The Library lists 2 helpful sites that are free if you are either in a Library or have a Library card - Ancestry (free inside a Library building) and Heritage Quest (can be accessed at home with a Library card). Both of these pull from primary sources such as census, vital, and even war pension records to assist you in your search. On top of that, Special Collections has obituary records from the Tennessean and Nashville Banner newspapers. For an example, view the 1940 U.S. Census from Indiana below. This census shows my great-grandfather's household, when my grandfather was only 14. It's difficult to read, but I've included a zoomed-in photo of the various categories.
Another tool we use often when assisting patrons is Familysearch.org. It's a free-to-use genealogy site/service that you do have to create an account for, but again, that's free to do. It pulls from the same sources as Ancestry - census records, social security records, etc., but I personally prefer this site over Ancestry because it's easier to use and often more accurate. And again, it's free! No need to be in a Library building or have a Library card.  
Tennessee State Library and Archives (TSLA) is another great resource for genealogy research, and can help you with information pertaining to the rest of the state versus just Nashville and Davidson County that you're getting from us. These resources are not only highly informative but also easy to use! 
NEWER INFORMATION: Ancestry is Back!
Once again, the Library offers access to Ancestry.com, with one very important caveat - it's IN-LIBRARY USE ONLY meaning you'll need to be in any of NPL's locations to access it. 
Here are some important highlights it offers and helpful user tips:
Ancestry has a variety of records including: census data, vital records, military records, newspaper obituaries, pictures, and even maps and atlases! 
If you need assistance in searching, you're welcome to contact either us in Metro Archives or Special Collections with questions. But there's also this helpful Proquest site with instructional webinars for beginners. 
You cannot create a family tree or profile, but you can send records you find via email to yourself. 
If you send an email, only 1 email will be sent to you in a 12-hour period, but the link provided will give you access to the last 300 documents sent. And if you don't receive that email in that time window, check your spam folder. 
If you already have an Ancestry account but are thinking of canceling due to this new subscription - here's an important warning: you could potentially lose all of your previous research conducted under your own account. So Caveat Emptor (buyer beware)!
If you're having issues searching for someone and coming up empty, try using 

truncation symbols to expand options.

For example, when you are unsure of a spelling – use a ? (question mark) to designate a letter, or

* (asterisk) to represent 0 to 5 letters, and " " to group names.
We're excited to have this resource back and I know many our patrons are too!
What We Have:
Marriage Records:
Marriage records are one of the most complete record groups we have here in Archives, and are highly beneficial records to genealogy research. Not just for the obvious of identifying family members and date of marriages, but also with providing addresses. The addresses are typically found in the marriage books and were added sometime after the beginning of the 20th century.
We have them indexed and on the website up 'til 1916. We're still currently working on an index that will include all Davidson County marriages from 1917 through 1980. After 1980, you can find all Tennessee marriages indexed on the Shelby County Register of Deeds website. 
Birth/Death Records:
You can find an index for these on our website, but the date ranges that we have of these is pretty minimal - Birth: 1881-1913, Death: 1874-1913. We only have them on microfilm, but they're unique in the info they provide as well. 
Original Wills:
Obviously useful records for estate and descendant information, we have both original wills and will books 1-63 (books after that are with Probate Court). The original wills we have date from 1783-1992. But we only have up to 1963 onsite; the rest are at our storage facility. This is something I worked on during quarantine from home - indexing the wills we have at our storage facility for faster turn-around on patron requests. To locate a will, we recommend providing us with a name, docket number, or preferably probate date. If you don't have this information, you'll need to contact Probate Court. 
City Directories:
These are probably our most-used resource for both family and house genealogy. These directories provide valuable information about individuals, companies, institutions, etc. Whether you're looking for a family member or trying to see who lived at your residence years ago, these are always your best bet. The oldest directory we have (and still in decent shape too) is from 1859. It's quite small. We have them sporadically up to 2011. We also have these on microfilm up to 1929, which is preferred because our older ones are in rough shape. NEW INFORMATION: another resource online through TSLA are city directories from 1853-1881. 
Clippings files:
Clippings simply refer to newspaper clippings, and these were cut out and collected based on family name, location, business, school, topic, etc. So for example, if you're doing research on Music Row, we can pull the massive folder we have that contains a variety of newspaper clippings and documents related to that part of town. NEW INFORMATION: Internally and for patron requests, we often use newspapers.com as well, which has been a wonderful addition for us in assisting patrons as well as conducting our own research. 
Naturalization Records: 
These really aren't frequently used, but when they are used, they're helpful. We have both an index (from 1803-1906) and some of the original naturalization records that took place in Nashville between 1853-1904. These records can also be found in several of the court books. 
Court Records: 
We have court records from Davidson County, Chancery, Circuit, Criminal, and Quarterly Courts. Information such as land disputes, adoption accounts, divorce records, probated wills, and various other cases are included in these records. We don't have all of the books from each court; to learn what we have, check out our website. Some of the cases can be a little peculiar too, such as the Chancery Court case you see below...
You're sure they're no longer interested?
NEW INFORMATION: Check out this other recent blog post regarding an important criminal court case file we found involving Rep. John Lewis, when processing the recently-acquired criminal court case files from early-mid 20th century. 
Other cool stuff
Cemetery Records:
Our cemetery records, mostly on microfilm, include records from Nashville City Cemetery (an index to interments from 1846-2001), Mt. Olivet Cemetery (lot cards from 1851-1991), and Spring Hill Cemetery (1901-1985). Another good resource to use for other cemeteries is the Davidson County Cemetery Survey.
Here's another example of a strange entry found in these records. The deceased individual was transferred from the "fountain of health". It must've ran dry...
Deed Records:
We use these records more commonly with house genealogy research, but if you know for sure that your relative owned land in Nashville/Davidson County, or even if you're trying to find that out, we have the materials. We have a few of the original deed books, dating from 1784 to 1901 (only a few of them on site though). There's also an index to search on microfilm. The Davidson County Register of Deeds Office will have later deed records as well. 
Photos:
It'd be rare that we could find a photo of your relative, unless they were a city official (maybe not even then), someone famous, or in one of the yearbooks we have. But you also never know; don't count our photo collections out either. The bulk of our images telling Nashville's story come from the Metro Photographer's Collection and various government departments. Mostly, they range from the 1940's-1960's, but there are a few gems in there that are older and show a much different version of Nashville.
Here's a few of my favorites from our Hicks-Green Glass Plate Negative Collection (dated between 1890-1920's) and our McClanahan-Weakley Family Collection: 
Reference Materials:
​We also have a few bookshelves filled with reference materials that can be helpful in your family search. Some of these books are simply indexes (such as the cover photo for the blog; that's an index to the first marriages in Nashville), while others are either history of Nashville-type texts, and also some government-related materials such as the Annual Reports for Nashville schools in the early 1900's.
One example of a book we commonly recommend to patrons that are interested in early Nashville history (as in when the city was founded circa 1779-80) is Chronicles of the Cumberland Settlements, 1779-1796 (see the cover below). This book was written/compiled by one of our favorite Archives' regulars, Paul Clements, who took 11 years to complete the text. It includes first-hand accounts of events that shaped Nashville's birth and growth, mostly from journal entries or newspaper clippings. Quite fascinating indeed, and most importantly, has an index of names. So if you're researching a relative that you think was in Nashville during that era, this book will be helpful to you. 
Newspapers on microfim:
​These are rarely used because we do not have an index for them, but they're great to look at if you have an event and date you're certain of, or if you're bored. It's a collection of several old newspapers that used to be published in Nashville many moons ago, dates ranging from 1800 to the late 1970's. They're mostly small newspapers, but there's also the Nashville Whig and Nashville Republican - two newspapers that eventually helped form the Tennessean. NEW INFORMATION: Others include the Nashville Daily American, Daily Union, Nashville Weekly American, Daily Nashville Patriot (a lot of Daily's), Nashville Globe, Nashville Choctaw Times, and Nashville Sun. But that's not all, and it's been mentally-noted to use these in future blog posts. 
I mostly mention these because we also have a couple of abstract books for early Tennessee newspapers, that can include some interesting information published in newspapers. For example, this entry from the Jackson Gazette, Oct. 22nd, 1825, Vol. II, No. 21...
As if 8-foot-tall men walked around the city all the time. 
Sample Research with Adelicia Acklen...
To show you a sample of some of our helpful records, here's a little background information on Adelicia Acklen (full name actually Adelicia Hayes Franklin Acklen Cheatham). 
Acklen is most famously known for building the Belmont Mansion with her second husband, Joseph A.S. Acklen, around 1850. She was also and may still today be considered one of the wealthiest women in Tennessee.
After the death of her first husband, Isaac Franklin, Adelicia was left an inheritance of approximately $1 million in businesses and land. Her next 2 husbands both signed prenuptial agreements, leaving her to manage her businesses and finances solely, which she was successful at. In fact, her second husband helped triple her fortune by the year 1860, just before he died in the Civil War.
Adelicia was only married to her third husband, Dr. William Archer Cheatham, for a short time before leaving him and Nashville behind, moving to Washington, D.C. with 3 of her adult children (she had 10 children, by the way). She died in May, 1887, in New York City while shopping; what a way to go, right? But just before she passed, she sold Belmont Mansion which soon after became a school for girls. I think you know where this ends. Check out a few documents below, related to her property and marriages... 
Part of a 1989 news clipping about her life at her summer home, Belmont Mansion...
A copy of the marriage certificate between Adelicia and her second husband, Joseph A.S. Acklen...
The marriage contract (possibly the pre-nup) between Adelicia and Dr. Cheatham...
'Til next time, 
Sarah