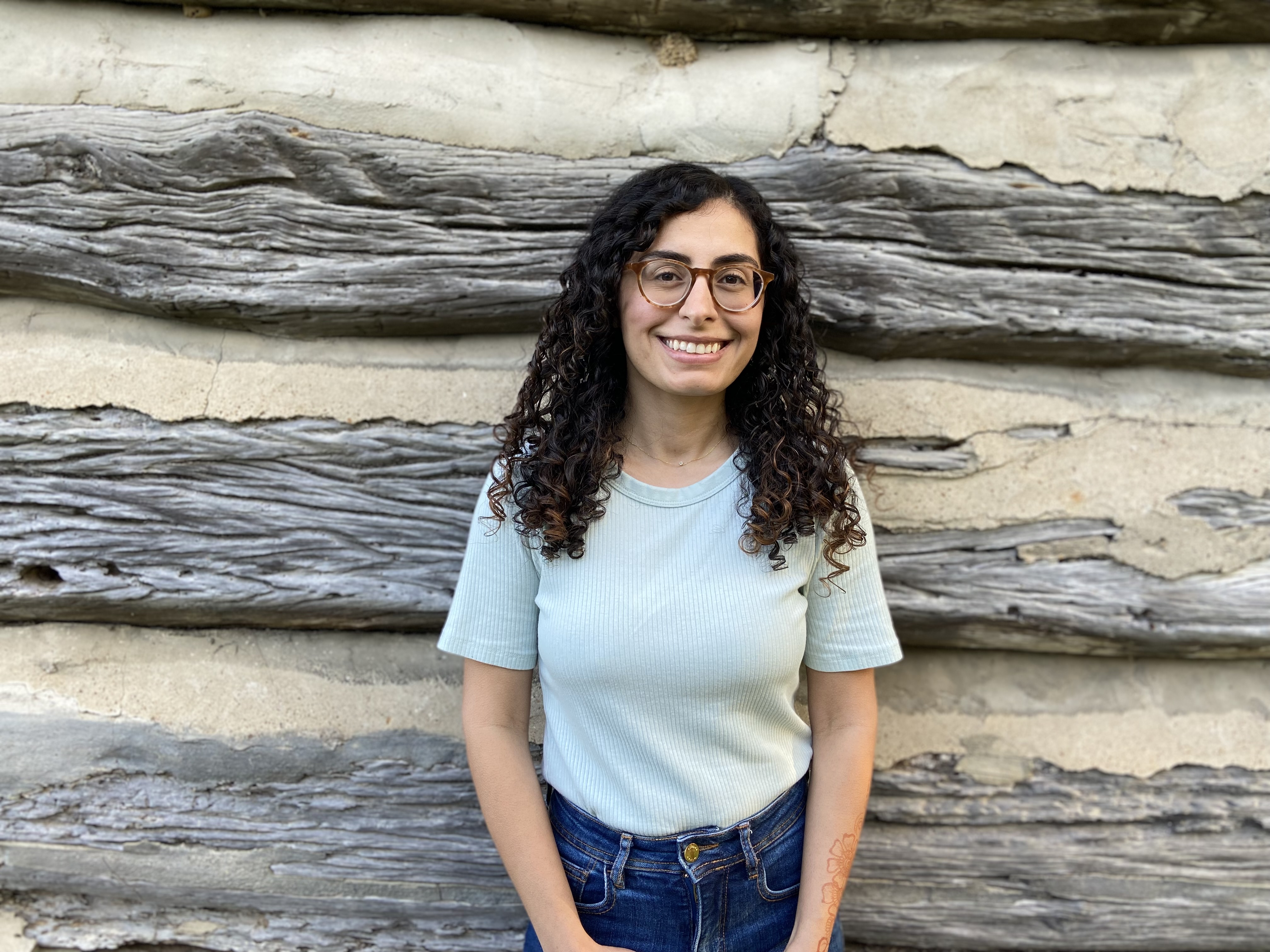 Thank the Library Workers in Your Life as We Celebrate National Library Workers Day
In 2021, there were roughly 200,000 people working in the library industry across the U.S., according to the Bureau of Labor Statistics.
Librarians and library staff represent a wide array of backgrounds, interests, and experiences. But they're all united by one common purpose: to inspire reading, advance learning, and connect their communities.
Today, we'd like to introduce you to Selva Ibrahim — a bright spot at Nashville Public Library (NPL) — who began her life on the run.
She was born in a refugee camp in Northern Kurdistan, Turkey, to a family joining the hundreds of thousands fleeing the Kurdish genocide spreading through Iraq, Iran, Syria, and Turkey, which began in the 1980s. The camp was anything but a safe, welcoming space for the refugees. Her father recounts being given poisoned bread by their Turkish hosts during their stay.
"Anything related to that is incredibly heavy. Even to this day, I don't talk to my parents about it or ask questions much, because I know it was incredibly traumatic, and I don't want to bring up horrible memories for them," Selva said.
Meet Selva Ibrahim
If you visit our Edmondson Pike Branch Library regularly, there's a good chance you've met Selva. As a Circulation Assistant, her days at NPL are spent helping people discover new books, assisting library patrons with questions, making displays to showcase different items in our collections, and many other tasks to create a warm, welcoming environment for Nashvillians.
As a daughter of Kurdish immigrants, Selva's ties to her community go beyond simple pride in her heritage. She's a driving force to bring Nashville's estimated 20,000 Kurds — the largest population of Kurds in the U.S. — into our library.
She curated a collection of books in Kurdish, spearheaded with a book drive by local Kurds — the first of its kind at NPL. She, along with Edmondson Pike Branch Manager Kara Youngblood, coordinated an author talk for a local Kurdish author at the library. They also coordinated on outreach in the Kurdish community at a local mosque to promote NPL's Dolly Parton's Imagination Library card and other NPL services — a first for the Library. And she continues to cultivate book displays that spotlight Kurdish books, authors, and the Kurdish language.
For her efforts, in 2019, Nashville Scene profiled Selva's efforts to make NPL a more inclusive space for Kurds, and in 2020, selected her as Nashville's Best Librarian.
But Selva's life didn't immediately lead her to NPL and public libraries. There were many twists and turns that led her to where she is now.
A Life Without Libraries
After her family was relocated to Nashville in 1991, Selva settled into a life that she describes as fairly uneventful. Growing up in the American way of life, Selva completed grades K-12 in Metro Nashville Public Schools, and graduated with a bachelor's of psychology from Tennessee State University (TSU).
Unlike many drawn to the library profession, Selva's early years weren't filled with libraries and reading. Her parents didn't read to her at night, check out books from the library, or attend library programs. For an immigrant family adapting to a completely new country and way of life, there were, understandably, more pressing priorities.
Her entry into the public school system was her first real exposure to the world of books, and in middle school, she served as a library aid. Even then, libraries weren't a pivotal part of her life.
But during her post-graduate studies in occupational therapy at TSU, her life took a fundamental turn that would lead her to NPL, and more specifically, our Southeast Branch Library.
Beginnings at NPL
"I feel like the story's a little bit serendipitous: two years into my post-grad program, I decided to drop it. It was a big career shift for me, and I had a lot of free time on my hands. I was feeling pretty lost; not sure what direction to take next," Selva said. "I remember coming across an article for a free symphony show at the Southeast Community Center, and I thought 'Oh, that sounds cool.'
So I go down there, and I'm listening to the music, and I look up and see a sign that reads, 'Library.' It was my first time in that space, and I had no idea they'd built it into this beautiful community center, complete with a library."
When she got home after the concert, Selva took the experience as a sign. She thought back fondly to her time as a middle school library aid, and recalled the positive feelings that always enveloped her whenever she stepped inside a library.
And so, in the summer of 2017, Selva applied for a Circulation Assistant position at NPL, and in October, was hired at the Southeast location.
Within two years, she'd begun her initiative to put Kurdish books on NPL's shelves.
Growing the Kurdish Collection
"When I first applied at the library, I did a substantial amount of research. I looked through NPL's collections and saw books in Spanish, Portuguese, and Chinese, but few in Kurdish. It got me thinking, 'How does the library go about selecting which languages go in the collection?' Nashville has the largest population of Kurds in the U.S., and I thought, 'Why don't we have our own?'" Selva said.
The reality, she found, was that books in Kurdish were simply very hard to get in America. Few U.S.-based publishers print them, and overseas shipping costs can be astronomical. She also points to the ongoing persecution of Kurds in many parts of the world as a reason that getting Kurdish books can be so difficult.
Pivoting to the Pandemic
To add insult to proverbial injury, just as the initiative was gaining momentum — and just as Selva had completed her very first book display of books for Kurdish History Month — Covid-19 struck.
"It was ironic. I had the display up in March 2020. I think it was the very next day that NPL closed due to the pandemic," Selva said.
Despite the setbacks, and her move to the Edmondson Pike location, it's a project that Selva remains committed to.
"It's a small collection — only about 30 books. But it's Kurdish authors talking about Kurdish culture, Kurdish religion, the Kurdish language. If you ask me, 'Why did you do that?' I'd say that, for me, it was to preserve our heritage for the next generation, and make the library more accessible for our community," Selva said.
For the Love of Libraries
Though she's achieved much during her time at NPL, Selva's not resting on her laurels.
Since transferring to the Edmondson Pike location, Selva joined NPL's Sustainability Committee and started a recycling program at her branch, diverting hundreds of plastic bottles, cardboard boxes, and hundreds of pounds of paper and newspaper away from landfills. She also worked with Edmondson Pike's Teen Program Specialist, Lily Caroline, to organize two tree pickups as part of the Tennessee Environmental Council's Tree Day.
"Selva is one of those rare people who you know truly cares about people and her community because it is evident in everything that she does. Selva brings such a positive presence to our branch and to NPL as a whole in so many ways, but most of all through her passion for sustainability and in the representation of our Kurdish community," Kara said. " It is a privilege to work with Selva, and I cannot wait to see what else she has in store for NPL!"
Beyond the special projects and sustainability efforts, Selva's biggest focus remains the core of what public libraries are all about: helping people improve their lives.
"I've always loved helping people. Growing up, I was always the one my family would reach out to for homework, résumé, and essay-writing help. I feel I'm always in a position to help at the library."
Selva's journey to NPL has been incredibly interesting, to say the least. From having very little to do with libraries to finding her true calling, the opportunity to serve at NPL is one she didn't initially seek out, but one she now cherishes.
"In just my five years here, it's been amazing. Everyone's been so supportive to me. There's just something about libraries that happens to me every time I walk in — it's this magical place," Selva said. "I know that might be a little cliché, but being in a space where learning is happening is just incredibly beautiful to me. Our jobs, everything we do — it's so meaningful. We're truly changing lives."
While she may not know where her career at NPL will take her, or how she'll choose to pursue those opportunities, for Selva, one thing's certain: she doesn't plan on going anywhere anytime soon.
Section
Genre / Topics
Age Groups