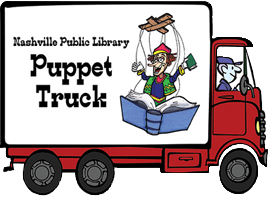 Puppet Truck programs inspire a love of books through engaging, three dimensional performances of classic children's literature. 
The Puppet Truck travels throughout Davidson County with the aim of reaching people who aren't able to visit the Main Library Children's Theater. The Puppet Truck works in conjunction with the library's Bringing Books to Life! program to provide literacy outreach and educational programs to preschools and daycare centers.
Fall 2020 Shows
Lorraine: The Girl Who Sang the Storm Away
July - December
Set in the Tennessee hills, this brand new musical, marionette show introduces us to Lorraine and her Pa Paw who love to play music and sings songs. When a big storm rolls in and their instruments are nowhere to be found, can Lorraine find the music inside herself to get through the fearsome thunder and rain?
Run time: 25 minutes
In Person/Digital Performances Available
Ali Baba and the Forty Thieves
All of July, then August though December on Tuesdays and Thursdays
"Open Sesame!" Enter the magical Cave of Wonders and behold Wishing Chair Productions colorful adaptation from the Tales of the Arabian Nights. Classic storytelling with a cast of exotic marionettes, clever sets, and props, and exciting original music are sure to enchant the entire family.
Run time: 40 minutes
In Person/Digital Performances Available
Hansel and Gretel 
August - December on Mondays, Wednesdays, and Fridays
This classic German fairy tale collected by the Brothers Grimm is told with the charming Peeko Puppets.
Run time: 30 minutes
In Person/Digital Performances Available
Reserve the Puppet Truck
Shows
The Puppet Truck rotates shows available each season. Shows are subject to availability. 
Bringing Books to Life! may offer different Puppet Truck shows to its partner sites than are available to the community. Learn more about the Bringing Books to Life! program.
Eligibility
The Puppet Truck is available to daycare centers, preschools, elementary schools, middle schools, senior centers and other organizations and institutions across Davidson County. It is also available for community events in Davidson County that are open to the public.
The Puppet Truck is not available for birthday parties, private events or outside Davidson County.
Performance Requirements
The following requirements must be met in order for the Puppet Truck to successfully conduct a performance at your location:
Location must be within Nashville and Davidson County.
Access to an electrical outlet
Performance space of at least 8′ x 8′ x 8′ (this measurement is subject to change based on specific show requirements)
Direct access into the performance space with no obstacles between the parking lot and the entrance
Freight elevator required for locations with second floor performance spaces
Parking space to accommodate a 15′ box truck
Download Performance Requirements (pdf)
What People are Saying
"This was our first time having the Puppet Truck and I will book them again and again and again! Our children loved the performance." 
– The Gardner School of Midtown
"This was my first experience with the Puppet Truck although Steve Martin, our librarian, did schedule the truck last year but I was unable to see the show. What a super resource this is for our children – with the price of school buses doubling; now $200 per bus based on carrying 66 children – we would never have been able to bring all of our students to the library for the show. Because the truck was able to present the show twice, once yesterday afternoon at 1:30 pm and again this morning at 9:00, the entire school was able to attend and have this experience. The show is not only highly entertaining; it is also a real learning experience." 
– Norman Binkley Elementary School
"Many teachers thanked us for getting the Puppet Truck & several commented that they would not have thought a puppet show could be so good. The students loved the show and being able to ask questions. It was nice that the students got to see & talk to the puppeteers! This was great in so many ways & will be used as TCAP review for storytelling and medieval time period. Thank you!"
– Bellevue Middle