Scavenger Hunts, Busy Bees, and a Return to the Library Feature in This Month's Update
This story is the ninth part in a year-long series. Read the previous entry here.
What a month June has been.
In case you missed it, the team at Nashville Public Library (NPL) reopened eight locations for curbside service on June 8. We even made a pretty awesome video, with rapping mice (yes – rapping mice) to let you know how it works.
And what a treat it was for our lil' readers as they continue their journey with Read to Rise to come back to our library.
With a fresh batch of books they got from their preferred library locations, the kiddos spent this month exploring diversity, going on scavenger hunts, and learning more about the animal kingdom.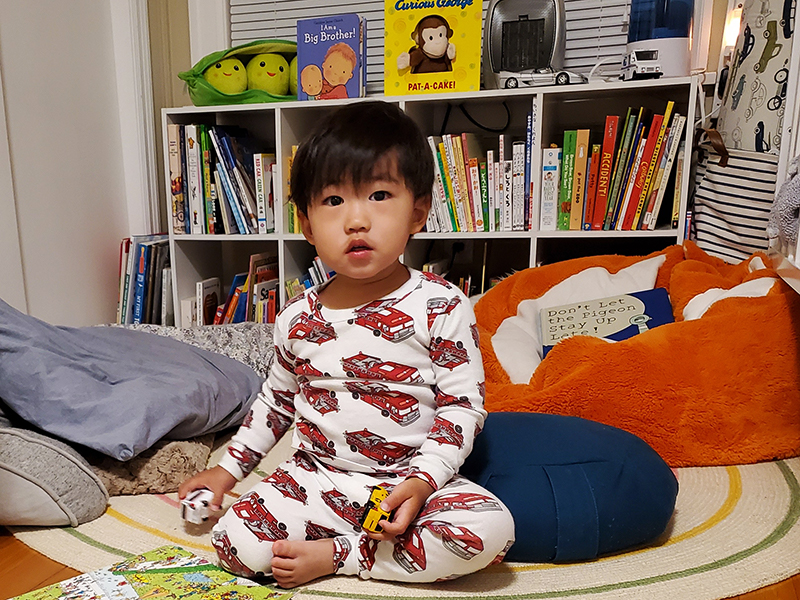 PJs + Comfy Cushions + Great Books = Bedtime Goodness! (Photo courtesy of Yurina)
Ray
Number of Reading Days Logged: 296
Last Book Read: The Family Book by Todd Parr
"As a parent, I love all of Todd Parr's books because they celebrate diversity in all forms. Ray seems drawn to all the bright colors and the quirky illustrations," said Yurina, Ray's mother. "The Family Book has been timely for us because of Hal's birth just last month. Hopefully, this is a book that both boys will enjoy reading together one day!"
Favorite Thing from Reading this Month: "These days, Ray loves doing a kind of 'scavenger hunt' for little details in picture books. It all started with finding the Goldbug in Richard Scarry's books," Yurina said. "Now, he'll be on the lookout for little ladybugs, dog tails, and other details in the background of other books. We're working on Where's Waldo? together, though it's sometimes tricky for adults as well!"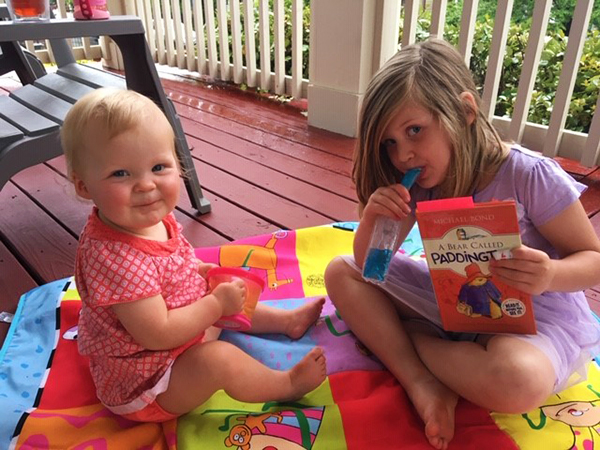 A lil' rain's no problem when you've got snacks and books! (Photo courtesy of Virginia)
Poppy and Goldie
Number of Reading Days Logged: 212
Last Book Read: Bedtime for Frances by Russell Hoban
"It's very relatable as a parent, and Poppy enjoyed the silliness of Frances mistaking her chair and bathrobe for a giant," said Virginia, Poppy and Goldie's mother. "I've noticed that Poppy is starting to understand the comedy in stories and be in on the joke."
Favorite Thing from Reading this Month: "We read The Bee Tree by Patricia Polacco and not only learned a little bit about bees' behavior, but also enjoyed how the author likens the sweet payoff of honey after a chase to the pleasant rewards of reading," Virginia said.
Start Your Journey with Read to Rise
We're not saying there's ever a bad time to start your loved ones off on their reading journey, but with our library reopened, there couldn't be a better time.
Plus, you earn free prizes as you go along, giving your lil' readers even more incentive to enjoy their favorite stories.
So, get your kiddos registered, start racking up points, and enjoy a return to our library with Read to Rise today!
Section
Genre / Topics
Age Groups