Harvard public health researcher David R. Williams, who has been studying the connection between racial discrimination and health for decades, recently wrote about the "pandemic of stress" that is disproportionately affecting communities of color during COVID-19. He summarizes, in simple terms, how unrelenting, toxic stress and its resulting health problems have always been a reality for Black Americans, and how COVID-19 has made this even worse. Dr. Williams ends with the urgent call for immediate, meaningful interventions to address this mental health crisis.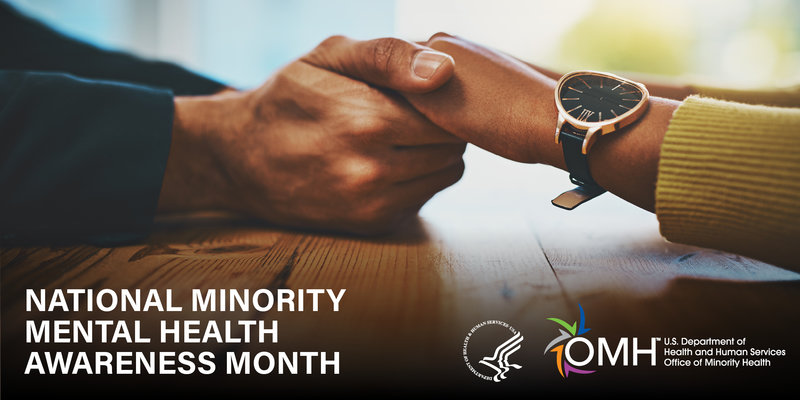 Dr. Williams' message is echoed this month during the national health observance of Minority Mental Health Awareness Month. The federal Office of Minority Health annually uses this month to bring attention to the fact that Black, Indigenous, and people of color (BIPOC) are "less likely to receive diagnosis and treatment for their mental illness, have less access to mental health services and often receive a poorer quality of mental health care," despite experiencing higher rates of psychological distress. 
Stigma around mental illness affects all populations, but we must acknowledge that BIPOC face additional barriers to mental and emotional well-being because of longstanding social and economic injustices. Some of these include:
The experience of ongoing, toxic stress due to racism and discrimination
Inherited racial trauma from past generations
The experience of racial bias and discrimination in healthcare settings and substandard care
Lack of culturally appropriate mental health providers and resources
Cultural stigmas surrounding mental illness
The emotional toll of explaining racism and violence to children in the family
The emotional toll of being called on to talk about racism at work or being asked to be a resource to white colleagues and friends
BIPOC communities are unfairly burdened with psychological distress, and a gap remains in accessible, culturally appropriate care to enable healing and thriving. Below is a selection of online and library resources for BIPOC mental health support, with an emphasis, in this moment, on the experience of Black Americans. 
Section
Genre / Topics
Age Groups