UPDATED JAN/2023 with correct info:
So far, the theme of my blog posts in 2021 have been about the building of Nashville, starting with the history of 2nd Ave (for obvious reasons). I won't continue with this theme all year, but it's a good one for this month's post.
Also, in honor of African American History Month, this post takes a look at the history of the McKissack & McKissack architecture firm. Sorry this post is late - we've been PRETTY busy lately in Archives as we've hit that unexplained spike in research during Feb-March - but better late than never! 
So without further ado, McKissack & McKissack is a firm that started in Nashville in 1905, and is still thriving today under the leadership of President & CEO Cheryl McKissack Daniel. Daniel acquired the family business from her mother, Leatrice McKissack, in 2000 as the sole owner. 
Their nationwide portfolio includes several recognizable buildings and projects, such as...
New Terminal One at JFK International Airport
The Studio Museum in Harlem
Coney Island Hospital Campus Renovation
In Nashville, there are quite a few buildings you might recognize as their creative handiwork, such as...
The Carnegie Library at Fisk University, 1908
Morris Memorial Building at 4th and Charlotte (see below), 1926
Pearl High School, 1936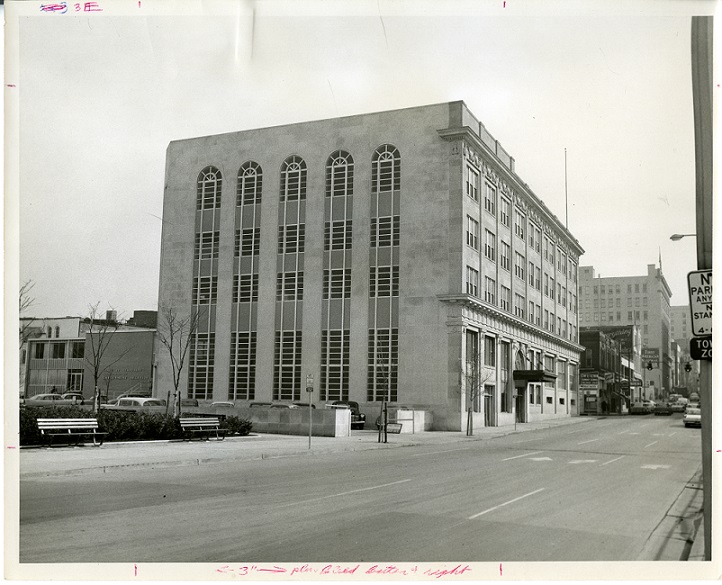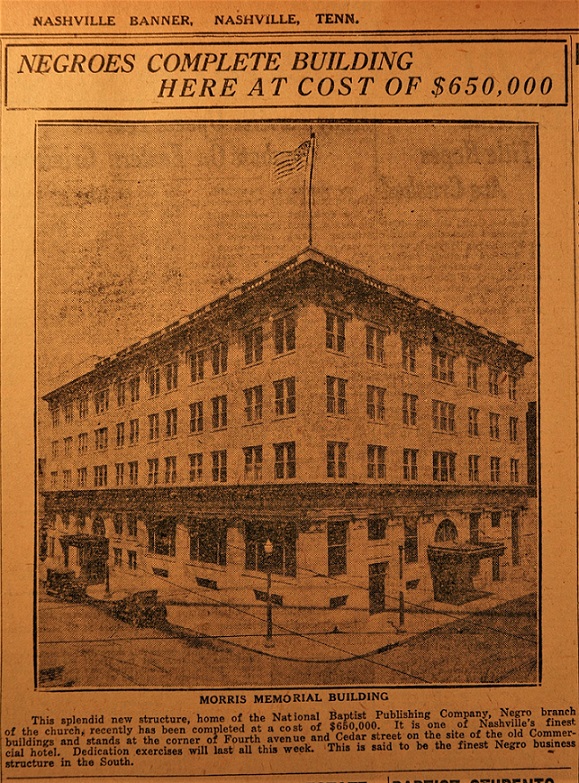 And now for a little history of the company... 
Family Skills and Trade
While the company was founded by Moses III and Calvin, its roots date back to his grandfather, Moses McKissack I. Born in 1790 of the West African Ashanti tribe, Moses was sold into slavery to prominent contractor, William McKissack of North Carolina, and took on his name. 
This is where he learned his skill as he was trained to make bricks and work as a master builder. At some point (unsure when), Moses was freed and was then able to sell his bricks. 
In 1822, Moses married his wife, Mirian, and they had 14 children. Their 9th child, Gabriel Moses "Moses II", was trained by his father in building houses and continued the family trade.
He took the trade and added an extra skill of his own, becoming a master carpenter as well. According to an article I read about the family, he built spiral staircases and made the gingerbread finishes on the Maxwell House Hotel, formerly located at 4th and Church.
Gabriel then passed the skills onto his son, Moses III, who was skilled in the art of building by the age of 11. 
Moses III was born in Pulaski, TN, on May 8th, 1879, and after receiving his education in the segregated public schools in Pulaski, he worked with his father for a time. 
In 1890, he was hired by a Pulaski architect as an apprentice, where he was responsible for drawing designs and plans, as well as working with the construction business. His excellent skill didn't go unnoticed as he eventually became a construction superintendent for homes in Pulaski, Mount Pleasant, Columbia and even in Decatur, Alabama. 
New Business in Nashville 
In 1905, Nashville became the new home for Moses, as he came here to build a home for Vandy professor, Granbery Jackson - the dean of architecture and engineering. This eventually led to building more homes for Vandy faculty, and starting his own business. 
In 1905, Moses officially started his construction firm. His first major commission came in 1908 when he built the Carnegie Library at Fisk University, also the first major structure designed by an African American architect in the country.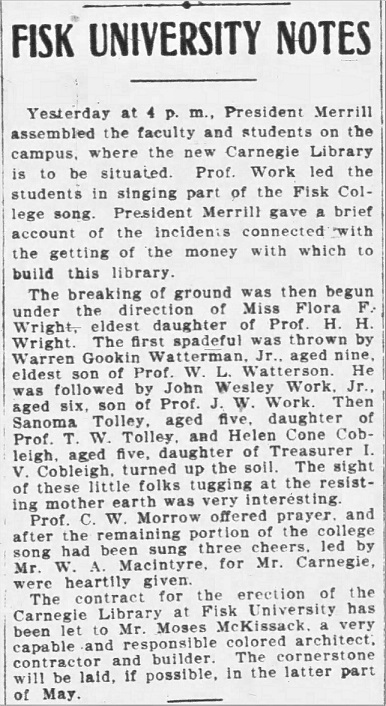 A few of the firm's projects over the next 10+ years included dormitories at Roger Williams University, Lane College in Jackson, TN, buildings on the campus of Turner Normal College, and several homes in the Colonial Revival style, including George Hubbard's in 1920.
Moses' brother, Calvin, moved to Nashville to assist Moses in his work. He came from Texas where he had worked as an architect building churches and dormitories.
Calvin received a degree from Fisk, and both brothers had architecture degrees, obtained through correspondence courses from MIT. 
Calvin also taught as an instructor of architecture at Tennessee A&I State College (TSU) when he came to Nashville. A few years after that, he joined the faculty at Pearl High School, as director of the Industrial Arts dept. 
Entering the 1920's, the McKissack brothers had gained several clients not only throughout Nashville, but also throughout the state (and southeast, really). It was time they made a little more history. 
Tennessee's First Registered Architects
Come 1921, the state professional registration law became effective and the brothers were eventually allowed to take the certification exam, after being denied at first. After passing the exam, their licenses were initially denied to them as well, but national news outlets put a spotlight on their story, so they finally became the first registered architects in the state.
A year later, Calvin officially joined his brother and McKissack & McKissack was formed, becoming the first professional African American architectural firm. They were later licensed in 22 more states.
Their portfolio grew over the years, building homes (mostly in the Colonial Revival style as previously mentioned), churches and educational facilities around Nashville.
Some of their other projects around town include: 
Capers C.M.E. Church, 1925
Old Washington Junior HS, 1927
A Library + several buildings on TSU's campus, 1927
A.M.E. Publishing House (Art Deco design, demolished in the 1970's)
Ford Green Elementary, 1937
They also received contracts for WPA work in the late 1930's, keeping them busy after the depression. Also during the 1930's, during a time when there were about 45 African American architects in the country, McKissack & McKissack remained one of the only firms owned and operated by African Americans in the South. 
Several buildings designed by either the brothers or the firm are on the National Register of Historic Places, and the firm became best known for their Art Deco style of buildings. 
In 1942, the firm received a major national contract to build the 99th Pursuit Squadron Air Base at Tuskegee, Alabama (approximately $5.7-7 million contract), making this the largest contract ever granted by the federal government to an African American company. 
They also worked on several federal housing projects, including the College Hill development in Northwest Nashville. Moses was appointed to the White House conference on housing problems during FDR's administration.
"Three Generations of Master Builders"
In 1952, Moses McKissack III died at the age of 73, and Calvin took over as the president and general manager of the company.
In honor of Moses' hard work over the years and vital contribution to the city, the city named an elementary school after him in 1954. The school was already under construction when he passed away, with the firm working on it to replace the old Clifton Elementary on 40th Ave N. It's known as McKissack Middle School today, and it's located at 915 38th Ave N.
See the photos below of the construction of the school, a typing class at the school in 1961, and a letter from the Metro Schools' Property Files.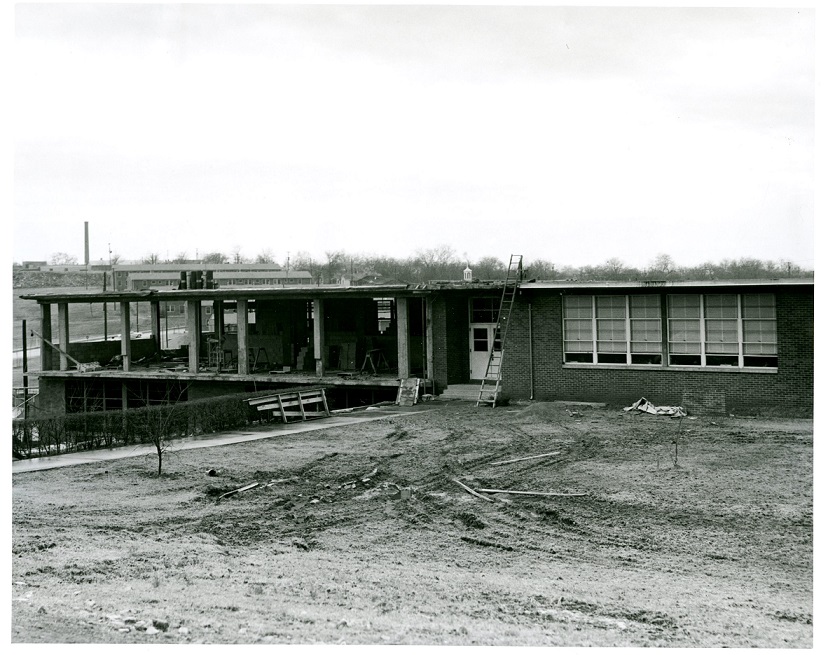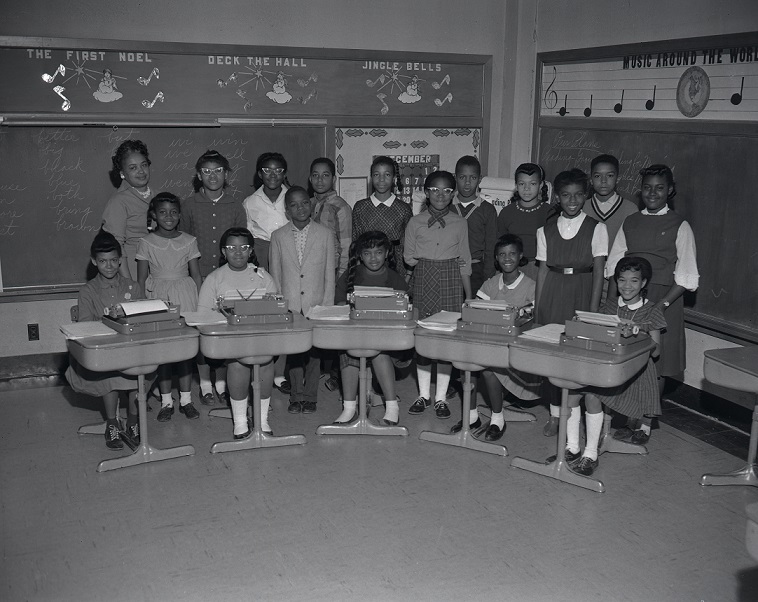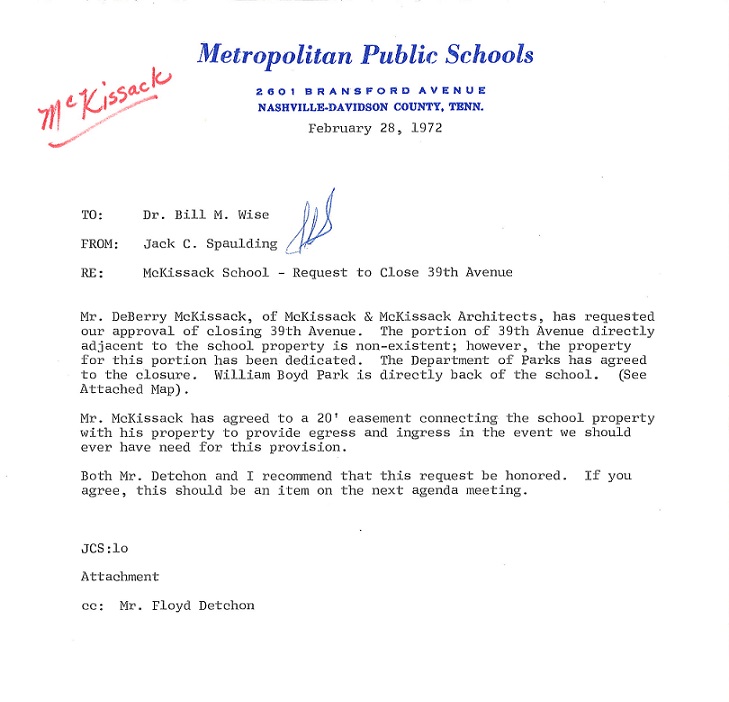 Calvin passed away in 1968, and the next family member to fill the shoes of the president was Moses' youngest son, William DeBerry McKissack. The business continued to thrive, and by 1975, they'd completed over 3,000 building projects, including about 2,000 churches. 
In 1983, things changed suddenly when William had a stroke and passed away, putting the company in his wife, Leatrice's hands. As you can imagine, losing her husband was hard enough for her but gaining the leadership role of a major company at the same time was very intimidating. But she did it, despite receiving several offers to buy the company by several other firms. 
Today, William and Leatrice's daughter, Cheryl McKissack Daniel represents the 5th generation president & CEO of the legacy business that started with Moses. In 2000, Cheryl purchased and re-established McKissack & McKissack as the sole owner of the family business, making it the oldest minority and woman-owned design and construction firm in the US. 
How would you like to virtually tour some of the sites the firm built? 
I recently learned about a very awesome tourism/educational website that allows you to tour various sites around Nashville both in person and/or virtually, if you want. It's called Nashville Sites, and a few of the tours, including the Fisk University and Meharry Medical College tour, cover some of the buildings that the firm worked on. So go on and check it out! 
'Til next time, 
Sarah 
Section
Genre / Topics
Age Groups