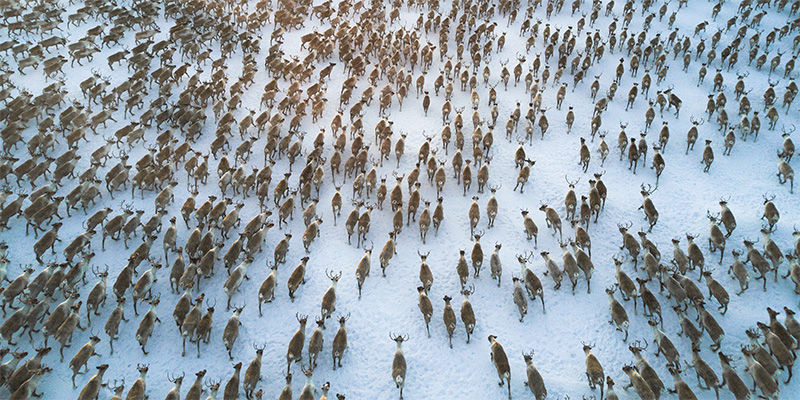 Enjoy This Roundup of All the Cool Stuff We Added This Year
(No actual reindeer included ☺)
2021 was definitely not a normal year.
We dealt with an ongoing pandemic that was on again, off again the entire time. We witnessed the swearing in of a new president. We saw the end of the War in Afghanistan, after more than 20 years of conflict. And that barely scratches the surface.
Suffice to say, 2021 was not what we're used to. But despite that, there was one constant that the team at Nashville Public Library (NPL) demonstrated all year long: a commitment to providing new services that benefit Nashvillians from all walks of life. And there were a lot of them.
In case you missed any of these resources when they first became available, we've rolled them up below. It's our pleasure to share them with you, and we can't wait for you to see what we've got up our sleeves for 2022!
Improved Public WiFi
Trying to find a decent spot for WiFi when you're away from home can be such a drag. That's why we made ours better.
At all of our NPL locations, you can enjoy free public WiFi that works whetheryou're inside our buildings, or outside nearby. Whether you'd rather recline in one of our comfy chairs, or don't want to leave your vehicle, our wifi is there for you.
To see which locations offer free public WiFi, please visit our WiFi information page.
The Whimsical World of Wishing Chair
Remember the "Golden Age of Children's Television?" You know — when kids and parents alike could look forward to tuning into The Wonderful World of Disney, Captain Kangaroo, Sesame Street, and other quality programming every week? The talented team at Wishing Chair Productions, our resident puppet troupe, channeled the very best of these children's classics when they created our very own half-hour variety show: The Whimsical World of Wishing Chair.
In each episode, you'll see characters from our puppet story times, whom you've come to know and love, have a ton of fun as they sing, dance, draw, and play along with viewers. From the Enchanted Alphabet Tree to an interesting chat with Cedric the Dragon to a variety of other delightful segments, there's plenty of fun to be had!
The entire run of The Whimsical World of Wishing Chair is available on our YouTube channel, and we're already planning even more Whimsical fun in 2022.
Art Lending Library
Have a party coming up or just want something to spruce up your home? NPL's Art Lending Library is just the thing!
Created with the help of our fantastic partners at Metro Arts, the Art Lending Library offers free, original artwork from 60 Nashville artists that you can check out and keep for up to three months. These are original works, not prints, and with a wide variety of themes, styles, and media from piece to piece, you're sure to find something you'll be proud to display.
To learn more about the collection and how to reserve a piece for yourself, please visit our Art Lending Library page. And be sure to check out our interview with one of the contributing artists: Amanda Downs.
Comics Plus
Love monthly comics? How about manga? Or maybe original graphic novels? You'll find all of these, and more, on Comics Plus, a new service that allows you to access thousands of digital titles on your computer or preferred device.
From mainstream titans like Dark Horse, IDW, and Kodansha, to indie darlings like Antarctic Press and Tokyopop, more than 100 comics and manga publishers' works are available for digital reading with unlimited checkouts.
All you need to access Comics Plus is your library card. From there, just hop on over to the Comics Plus page and find your next favorite comic today!
PressReader
Finding reliable news is crucial in today's ever-changing world. And finding a reliable news service that provides you with all of the facts can be tricky. That's why PressReader is the perfect resource to get the whole story.
Featuring more than 7,000 newspapers and magazines from more than 120 countries in more than 60 languages, PressReader is your gateway to access the latest news and info in the United States and around the world. Whether you want to keep up with national trends, world politics, the economy, the fashion industry, or anything in between, PressReader ensures you'll always be in the know.
To get started with PressReader, just head on over to our PressReader page.
NYTimes Online
Since its debut in 1851, The New York Times has established a reputation as one of the most respected and high-quality daily newspapers in the world. Featuring in-depth coverage on national and world events, politics, economics, the arts, and culture — not to mention one of the most widely-read opinion columns of any publication — The New York Times is a must-read for anyone who wants to keep up with current events.
And now it's free for NPL users.
With NYTimes Online, you'll get 24-hour access to the entire current edition of The New York Times. In order to use NYTimes Online, you'll need to already have a pre-established, free The New York Times account. By using NYTimes Online, you'll receive a code that you can redeem for 24 hours of free access. You can repeat this process for every day that you want, meaning you never have to pay for access again.
To learn more and access NYTimes Online, just visit our NYTimes Online info page.
Kanopy
Classic films and modern masterpieces that define what makes Hollywood Hollywood. Staples of world cinema that changed perceptions of what movies could achieve. Epic documentaries that explore every corner of our world, and beyond. Children's programming that ensures your kids will be laughing and learning for hours on end.
These are just a few of the things that Kanopy, our new, 100% free video streaming service, can offer. You're allotted 12 play credits per month per account, and most flicks cost only one credit! Some titles allow you to view entire seasons on one credit, and some don't cost any credits at all.
Plus — Kanopy Kids allows for unlimited viewing and there's no need to make an additional account.
To get started, visit our website and sign up for your free Kanopy account.
NPL Means Business
For many people, launching their own business is a dream they've cultivated, worked for, and planned for a long time. But getting started can be challenging, not to mention expensive. Wading through the sea of information covering things like startup costs, business plans, insurance, and more can seem intimidating and overwhelming. 
If you want to succeed at starting and growing a business, you need access to reliable information and resources that will set you on the right course. And at NPL, we're here to help you get started with NPL Means Business, a new collection of resources that help you navigate the process of starting and growing your own business. Through online training, recommended reading lists, databases, one-on-one help, and more, we help you take the initial steps needed to succeed as an entrepreneur.
All you need to get started with NPL Means Business is a library card, and you'll have access to everything the service has to offer.
Blood Pressure Kits 
Did you know that nearly 50% of Americans have high blood pressure and don't even know it? Or that 34.4% of Davidson County adults have been diagnosed with high blood pressure? High blood pressure, or hypertension, is often called "the silent killer" because of how it is often lethal without any warning or obvious symptoms. If you have hypertension, or suspect that you might, it's crucial that you monitor your blood pressure regularly.
And NPL is here to help you. Through our partnership with the American Heart Association of Greater Nashville, NPL is now offering 30 home blood pressure kits that you can check out and keep for up to 42 days, plus one renewal. The kits come packaged with an arm cuff, monitoring device, instruction manual, and a hypertension guide that includes space for you to record your readings.
Using your library card, you can reserve a blood pressure kit and pick it up at any of our 21 locations. Visit our website for more details and to place a hold today.
Nashville Reads Featuring Colson Whitehead
Every year, NPL brings our city together to explore some of the best books out there with Nashville Reads. Through group readings, community projects, special programming, and more, Nashvillians from all walks of life unite to discover more about — not only great works of literature — but ourselves and each other.
This year, we're doing things a little differently. While we typically focus on one title for Nashville Reads, this time around we're inviting you to explore all of the works of Colson Whitehead.
A Pulitzer Prize and National Book Award-winning author — and the recipient of this year's NPL Literary Award — Whitehead has created a body of work as diverse and immersive as the worlds featured in his books. From stories about failing elevator detectives to a zombie apocalypse to dealing with the lasting effects of institutional abuse, Whitehead doesn't limit himself to one type of story or one way of telling them.
If you're not sure where to start with Whitehead's work, check out this primer of his novels we put together, and watch his incredibly compelling public lecture on our YouTube channel.
Section
Genre / Topics
Age Groups