Meg Medina, National Ambassador for Young People's Literature
¡Cuéntame! | Let's Talk Books Event
We are so excited to welcome Meg Medina at the perfect time to kick off our Hispanic Heritage Month celebration! 
She will inspire students and families to experiment with book talks — sharing favorite books to start conversations and build excitement about reading. Her goals are to emphasize books and stories as part of everyday life, encourage story sharing and conversation between friends and within families, and to highlight the amazing resources of the library as a welcoming place for every family to explore, learn, and connect.
September 12 at 6:00 PM
Main Library, downtown
First floor, auditorium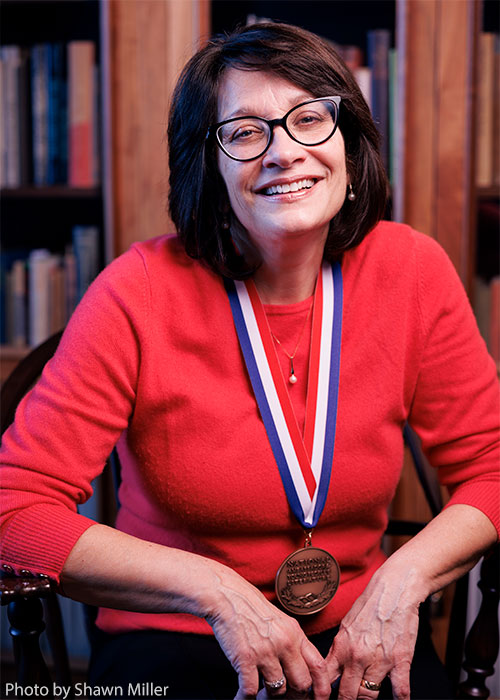 Meg Medina in our Collection
About Meg's Platform
For her two-year term as National Ambassador for Young People's Literature, Medina will engage readers across the country via her platform "¡Cuéntame!: Let's talk books."
Inspired by the phrase Spanish-speaking friends and families use to catch up with one another, "¡Cuéntame!" encourages connection amongst families, classrooms, libraries, and communities by talking about books — both those books that reflect the readers' lived experiences and those books that expose readers to new perspectives.
"It's an enormous honor to advocate for the reading and writing lives of our nation's children and families," Medina said. "I realize the responsibility is critical, but with the fine examples of previous ambassadors to guide me, I am eager to get started on my vision for this important work. More than anything, I want to make reading and story sharing something that happens beyond classroom and library walls. I want to tap into books and stories as part of everyday life, with all of us coming to the table to share the tales that speak to us and that broaden our understanding of one another."
–Meg Medina, at her Inauguration as National Ambassador for Young People's Literature